Media Releases
22nd December 2021 Steadfast WW11 Fighter Aircraft
A relatively new fighter aircraft on the New Zealand Warbird scene will make its Warbirds Over Wanaka International Airshow debut at Easter 2022 (April 15th, 16th and 17th).
The Yakovlev-3, known as 'Steadfast' was bought in 2019 by Blenheim-based owners, Mark O'Sullivan and Ronan Harvey, from its Australian owners. The Yak-3 was one of the most feared WWII fighter aircraft due to their high speed and manoeuvrability making them ideal in dogfights.
In the early 2000's a decision was made to build brand new Yak-3s based on the original prototype, this time fitted with powerful Pratt and Whitney R-2000 radial engines. The new aircraft were built in Romania and were snapped up by eager Warbird aircraft owners around the world.
'Steadfast' was exported to the United States in the mid-2000s embarking on an illustrious career at the famous Reno Air Races. During that time the aircraft picked up nine world speed and climbing records including reaching 669km/h over a 3km course in Utah. In 2013 the aircraft moved to Australia before moving across the Tasman.
Co-owner Mark O'Sullivan is rapt to have the aircraft in New Zealand and can't wait to show her off at Wanaka. "This aircraft has it all with her beautiful lines betraying what can be brutal performance. The addition of a great smoke system means this aircraft will be something of a show-stopper at Wanaka," says Mark.
'Steadfast' will be one of two Yak-3s performing at Wanaka. Graeme Frew's Russian fighter, 'Full Noise 35', has been a regular at Wanaka since 2012 and is one of several Warbird aircraft which will be available for joy rides over the Easter weekend.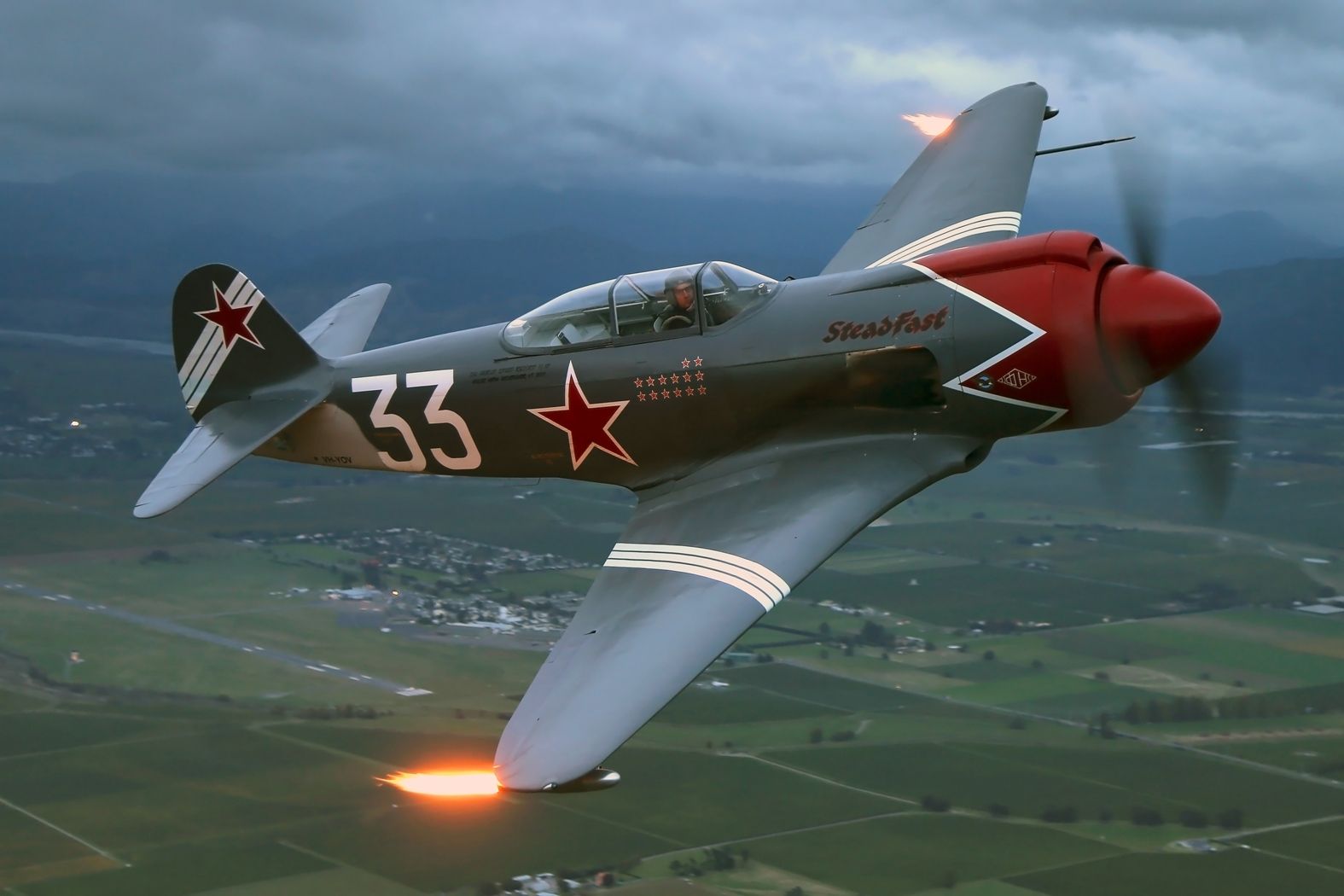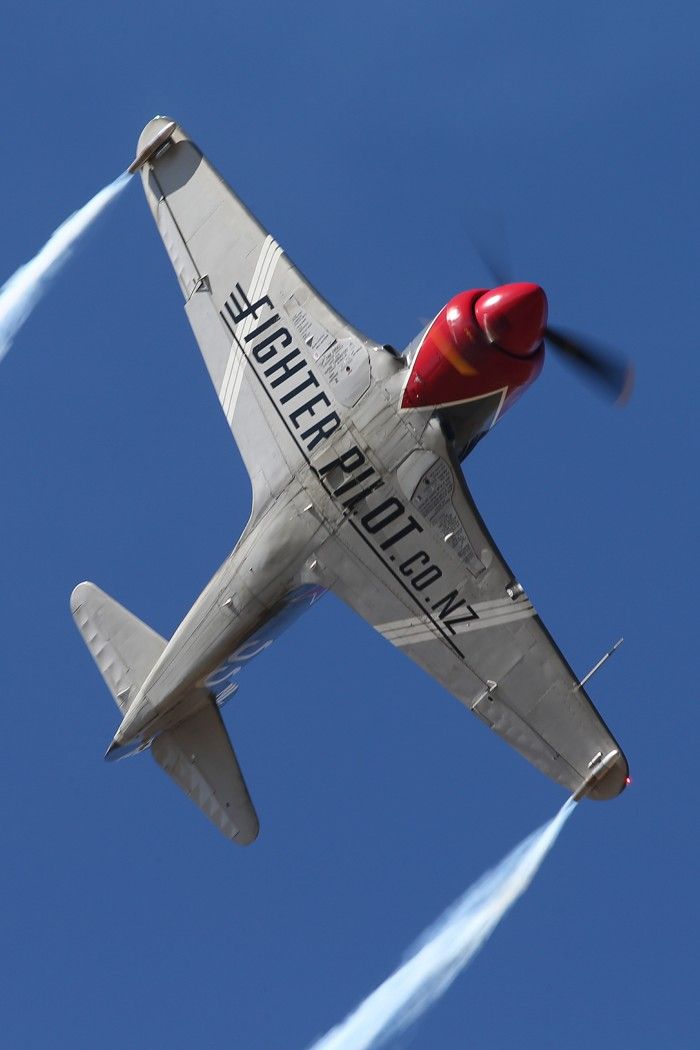 Phot Credit Gavin Conroy
9th December 2021 Birds of a Feather
An Electric aircraft, a drone logistics company and a solar space initiative are the latest exhibitors to be confirmed for a new "Future of Aviation" exhibition at next Easter's Warbirds Over Wanaka International Airshow.
The first exhibitor confirmed back in October was Wisk, which is currently trialling its all-electric, self-flying air taxi in the McKenzie Country. The air taxi will be on display at Wanaka. See: https://wisk.aero/aircraft/
Wisk has now been joined by three Christchurch-based companies – ElectricAir, Kea Aerospace and SwoopZero.
ElectricAir operates the first and only electric passenger plane in New Zealand and its flying display at Warbirds Over Wanaka will be a first for a Kiwi airshow.
The Pipistrel Alpha Electro is a two-seat light sport aircraft designed for pilot training. It is entirely composite with carbon fibre wings and fuselage, making it light and strong. It's around 70% quieter than a petrol equivalent and of course produces zero exhaust emissions. The Electro can fly for about an hour plus reserves at a fuel cost of approximately $2. The aircraft is based at Rangiora and Christchurch and is used for flight training and trial flights. See:
https://www.facebook.com/RadioNewZealand/videos/350729776191248
Kea Aerospace has also confirmed it will be exhibiting at Wanaka. The company is developing a solar powered, remotely piloted aircraft that will fly continuously in the stratosphere for months at a time to collect frequent high-resolution aerial images.
The zero-emission Kea Atmos will operate at an altitude of around 65,000 feet (20 kilometres), flying far above the weather and conventional air traffic. With a wingspan of 32-metres, the Kea Atmos will be the largest un-crewed aircraft designed and built in the Southern Hemisphere. See:
https://www.youtube.com/watch?v=9hu-cAH6GOk
Also joining the line up in the "Future of Aviation" hangar will be Swoop Aero, an Australian drone-powered logistics company founded in 2017.
Swoop Aero is aiming to provide services accessible by one billion people in 2030, across a range of industries including health, transport, disaster management, and search and rescue. Swoop Aero has already played a significant role in using its drones to get Covid-19 vaccines to remote communities around the world.
See: https://vimeo.com/560304753 and https://vimeo.com/581913218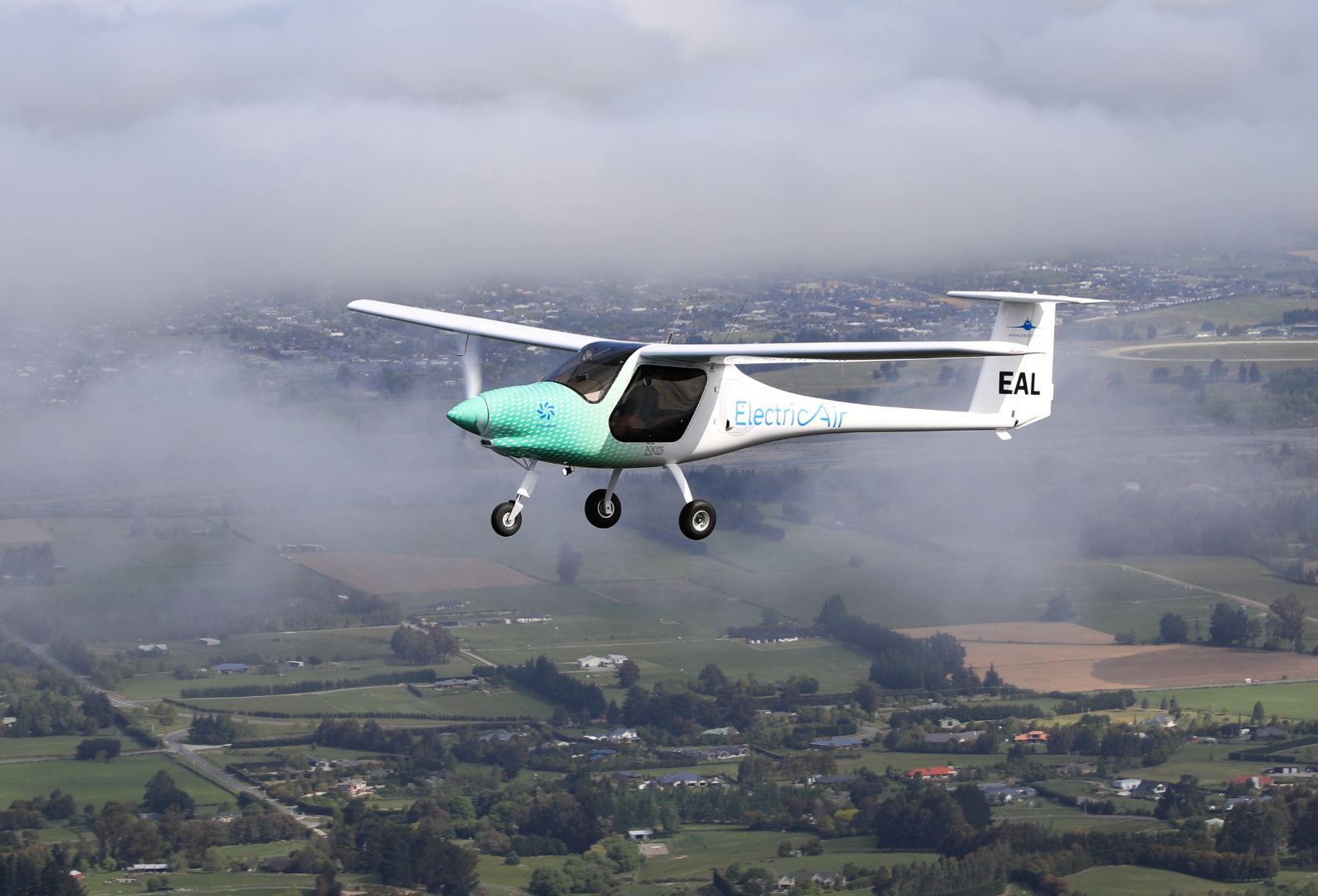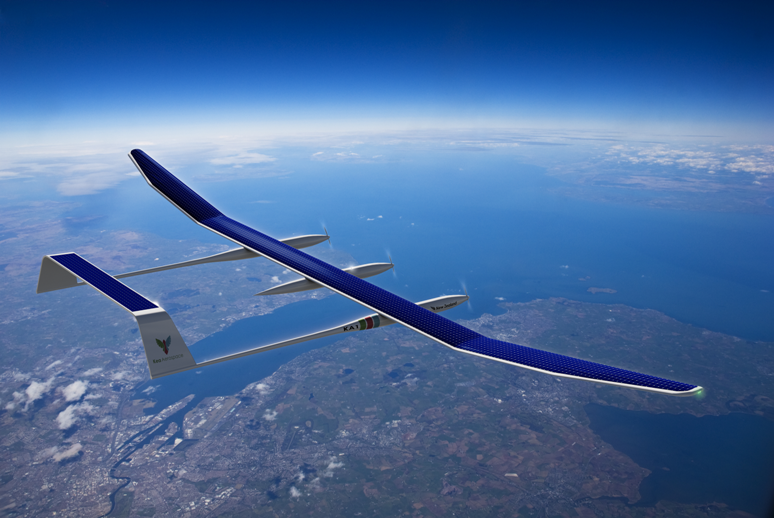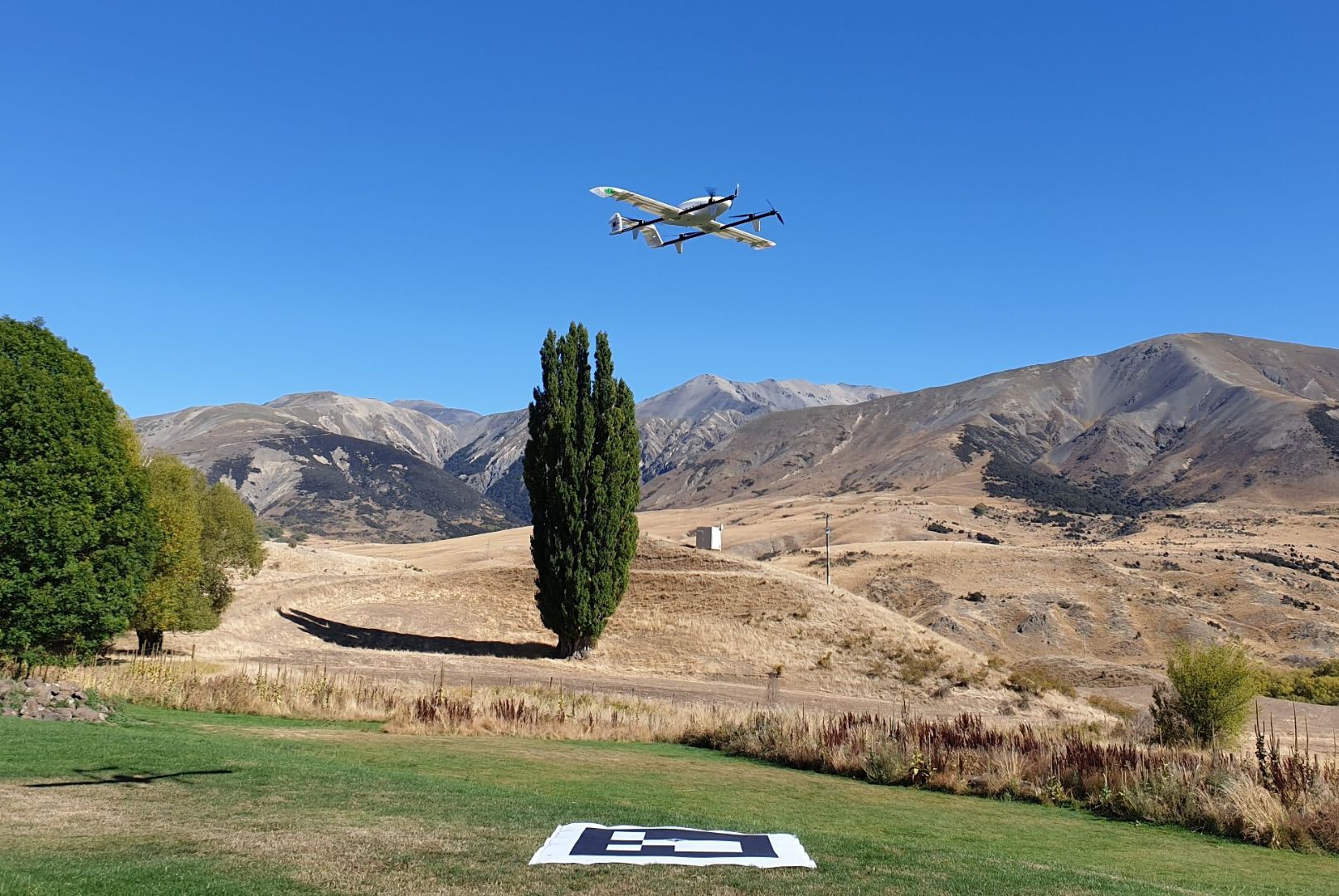 Electric Air aircraft Kea Aerospace 2 Swoop Aero
12th November 2021 Field Gun Barrage
The Warbirds Over Wanaka Warhorse re-enactor group has been keeping it's 'powder dry' since the disappointment of the cancellation of the 2020 Warbirds Over Wanaka Airshow.
The re-enactors are now all fired up to attend next Easter's Airshow with their tribute to the role of field guns in WWII - a 'barrage' from at least six field guns and other armaments. This might be the largest gathering and mass firing of field guns in the Southern Hemisphere in decades.
One or two 25-pounders have been a regular sight at Warbirds Over Wanaka for many years, primarily as part of the Warhorse static display. Since 2014 at least one of the guns has been fired across Lake Wanaka to start the community lakeside aerial display on Good Friday.
The display will involve the guns being rolled out to form a battle line down the crowd line. The command will be given and the guns will be fired one after the other, reloaded and fired again and again giving airshow visitors a glimpse of what it would have been like for the Allied forces engaged in such famous battles as El Alamein and Monte Casino.
Re-enactor group spokesman Darryl Brewer says the 'barrage' will be quite a logistical exercise getting all the guns in position as quickly as possible and firing.
"The guns will fire one after the other to start with but then they'll just fire again as soon as they're ready so it will then just be a big wall of noise, just like it was during the big battles of WWII," says Darryl.
The 25-pounder was the major allied field gun during the Second World War. At El Alamein for instance there were some 800 guns deployed. The 25-pounder was introduced just before the war started and was used by armed forces throughout the Commonwealth, including the New Zealand Army, for many decades afterwards.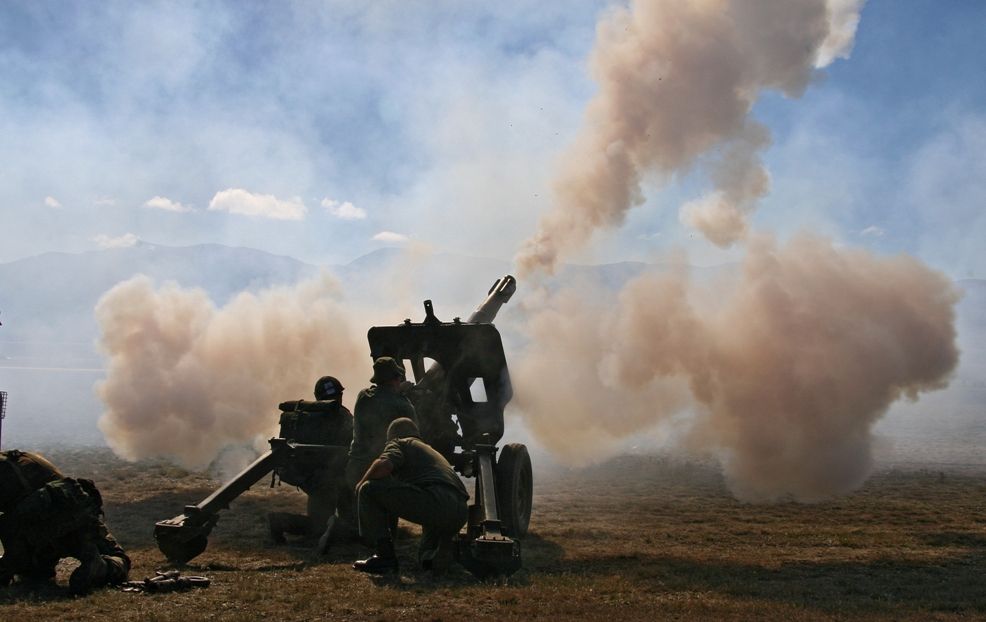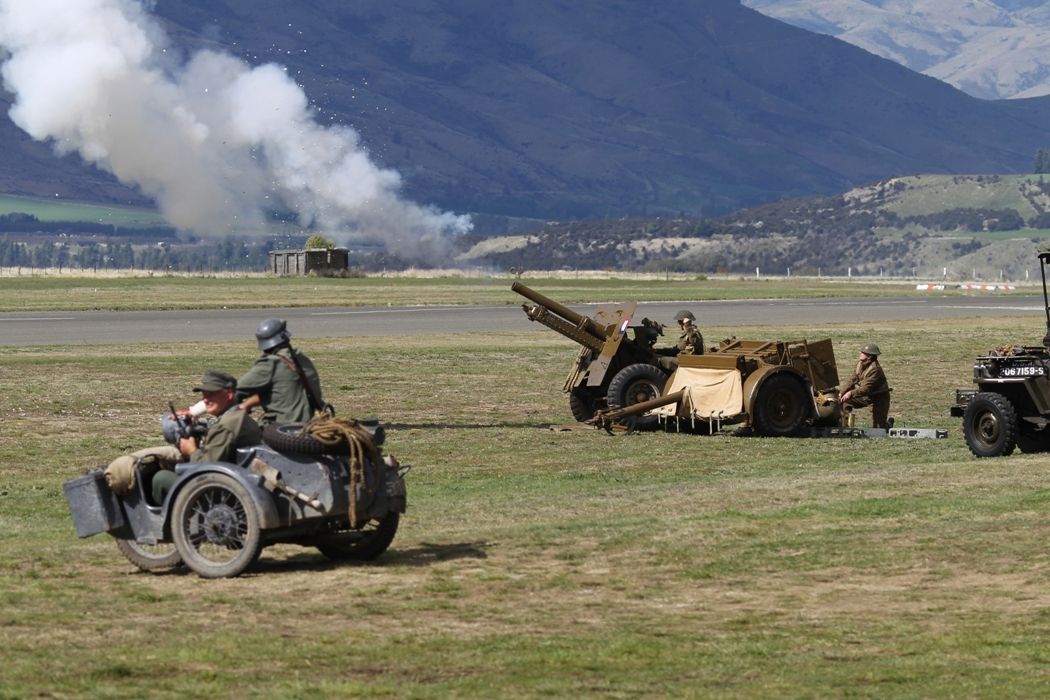 Photo Credit Gavin Conroy
27th October Warbirds Over Wanaka's chance to embrace New Zealand's deep ties with RAAF
A major coup for New Zealand's premier Airshow. The Royal Australian Air Force has confirmed it will be displaying its new F-35A Lightning II fighter jet in New Zealand for the first time at next Easter's Warbirds Over Wanaka International Airshow.
The Australians are one of several air forces formally invited to be part of the Airshow which is marking the 85th Anniversary of the Royal New Zealand Air Force.
RAAF Acting Chief of Air Force, Air Vice-Marshal Stephen Meredith, says the Wanaka Airshow is an excellent opportunity for RAAF to be represented in New Zealand and at the same time to be part of the RNZAF celebrations. Along with the F-35A display the RAAF will also have a C-130J Hercules on static display next Easter.
Warbirds Over Wanaka General Manager, Ed Taylor, says having the F-35A confirmed is huge for the event. "Modern fast jets are always very popular with our crowds and follows past displays from the F/A-18A/B Hornets also out of Australia and the USAF F-16 Fighting Falcons."
"But it's more than these impressive Aussie aircraft that will be on show next Easter. Warbirds Over Wanaka is the perfect event at which to reflect on the very close and deepening bond shared by both RNZAF and the RAAF.
"We warmly welcome RAAF's involvement in April 2022, that we know will only heighten the excitement for visitors to Warbirds Over Wanaka International Airshow."
Ed says having the C-130J on display will be a great opportunity for New Zealanders to have a look through this impressive transport aircraft, COVID restrictions permitting. The Royal New Zealand Air Force has ordered five of these aircraft to replace the current C-130H Hercules.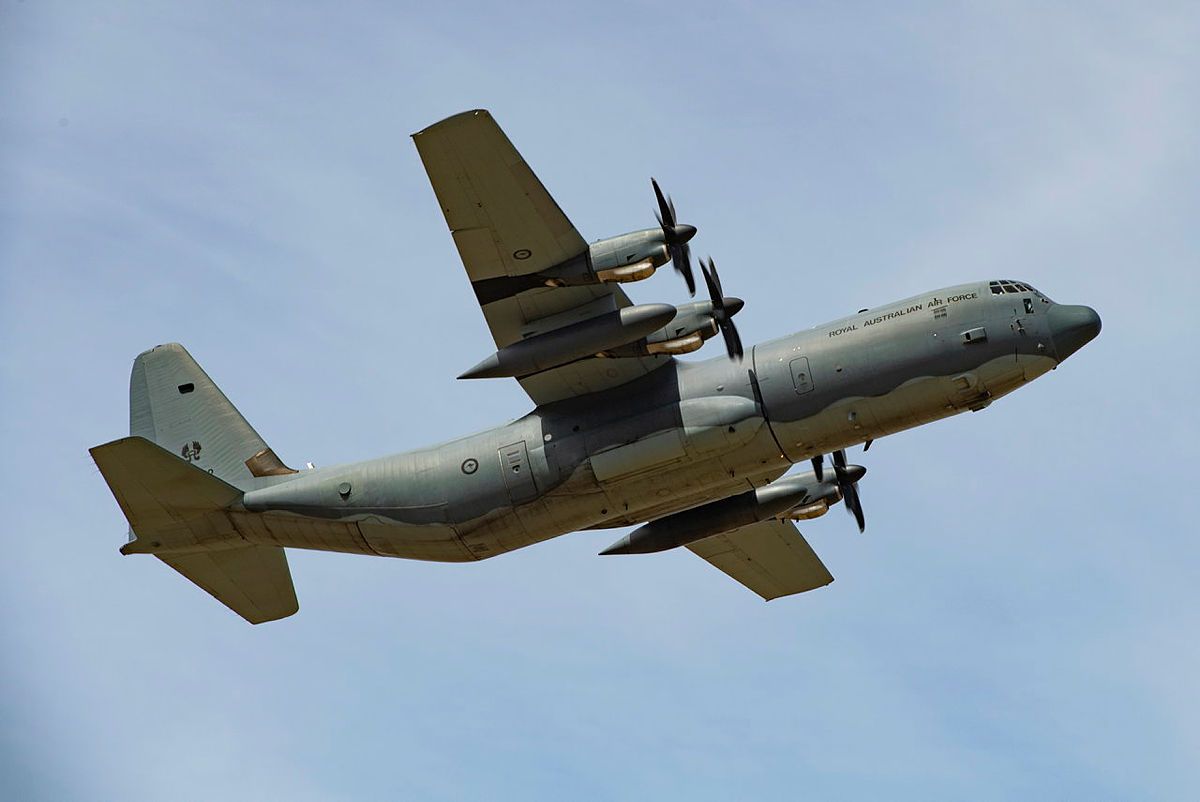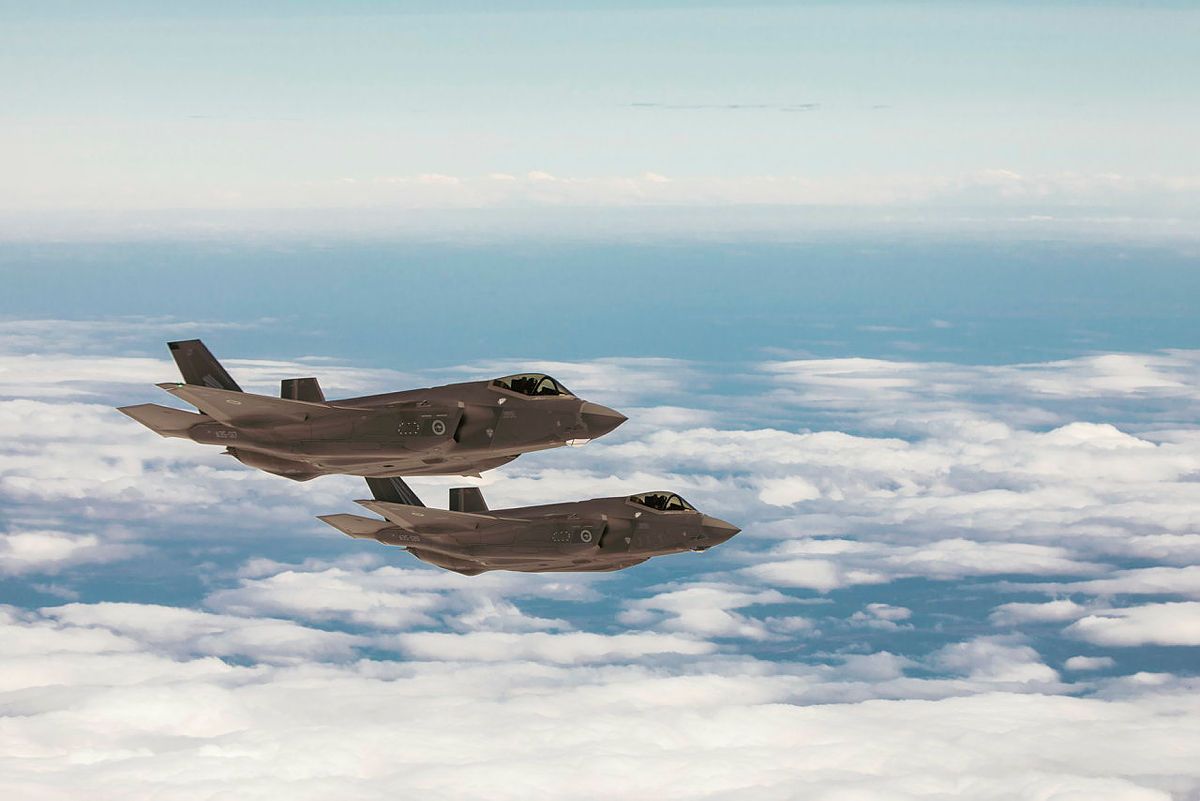 RAAF C-130J RAAF F-35As
5th October 2021 The Future of Aviation 2022.
An all-electric, self-flying air taxi will be one of the major attractions of a new 'The Future of Aviation' exhibition at next Easter's Warbirds Over Wanaka International Airshow.
In 2017 Wisk became the first company in the United States to successfully fly an autonomous eVTOL (electric vertical take-off and landing) aircraft designed for passenger use. Wisk's first aircraft arrived in New Zealand later that year and soon after testing began in the South Island.
Wisk is an independent company backed by The Boeing Company and Kitty Hawk Corporation and has now completed more than 1,500 test flights on its full-scale aircraft.
Warbirds Over Wanaka General Manager, Ed Taylor, says the 'The Future of Aviation' exhibition is a new initiative for Airshow organisers. "There's a huge amount of work going on around the world on new propulsion technologies and we felt it was time for our visitors to be able to learn more about what's happening from the people at the forefront of these developments here in New Zealand."
"Wisk is a great example of this. They have been testing their aircraft just up the road from Wanaka in the McKenzie Country and it's great our visitors will now have the opportunity to see this aircraft up close and to learn heaps more about it," says Ed.
Ed says Wisk's air taxi is the first exhibition to be confirmed in the 'The Future of Aviation' space and other exhibitors will be announced over the coming months. "We are talking with other electric aircraft owners and those looking at other technologies such as solar," says Ed.
Warbirds Over Wanaka is being held at Wanaka Airport next Easter (April 15th, 16th and 17th). For more information and tickets go to www.warbirdsoverwanaka.com
Wisk aircraft specifications
Mission: Air taxi
Power: All-electric
Aircraft Type: Experimental
Aircraft Classification: eVTOL (electric vertical take-off and landing)
Type of Flight: Fixed wing, on a single propeller
Pilot Type: Autonomous (self-flying)
Altitude: 1500-5000 ft AGL
Dimensions: 6.4m long with an 11m wingspan
Vertical Lift: 12 independent lift fans
Range: Initially about 40 kilometres plus reserves
Speed: Around 160 kph


To learn more about Wisk, visit: www.wisk.aero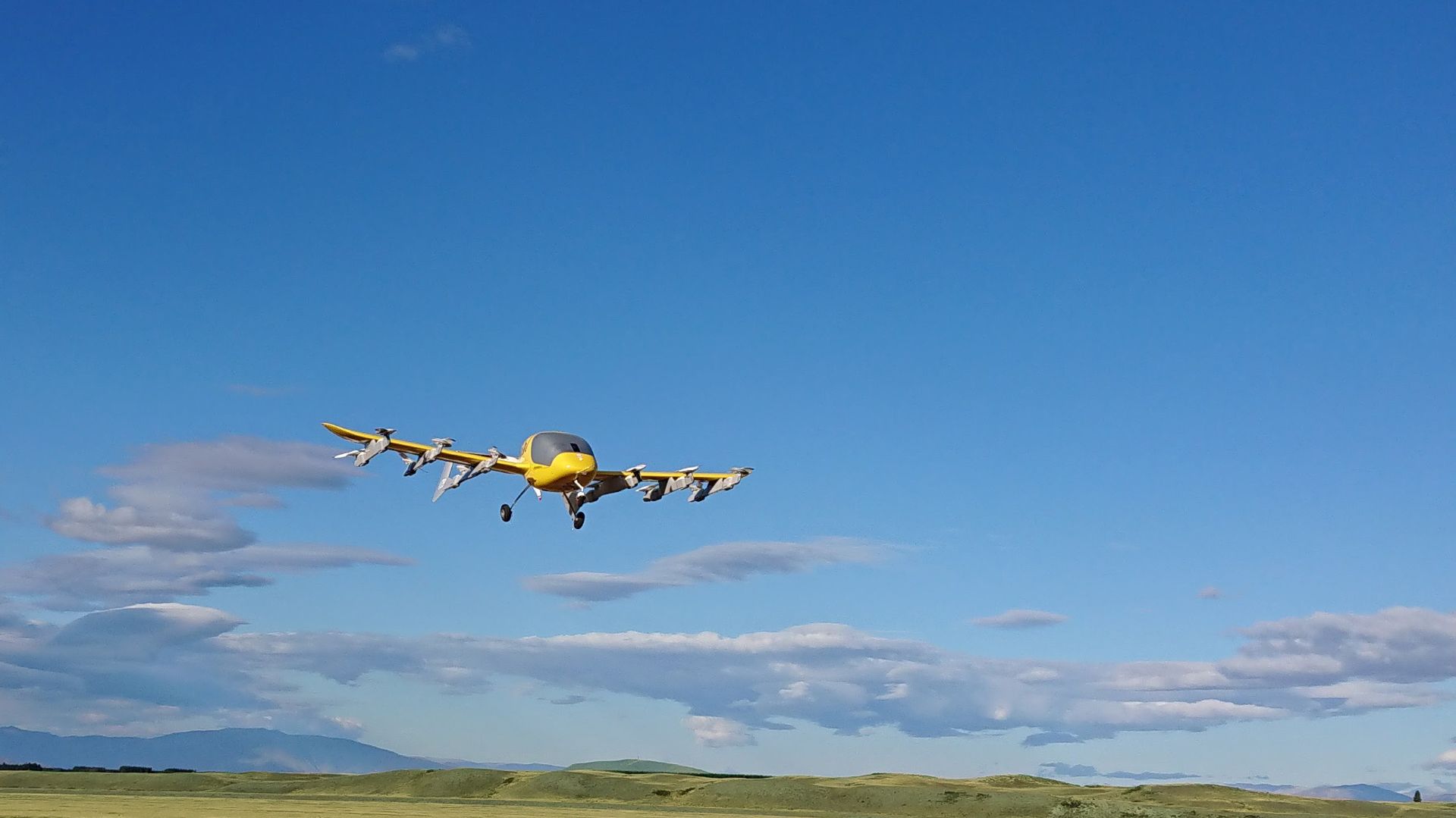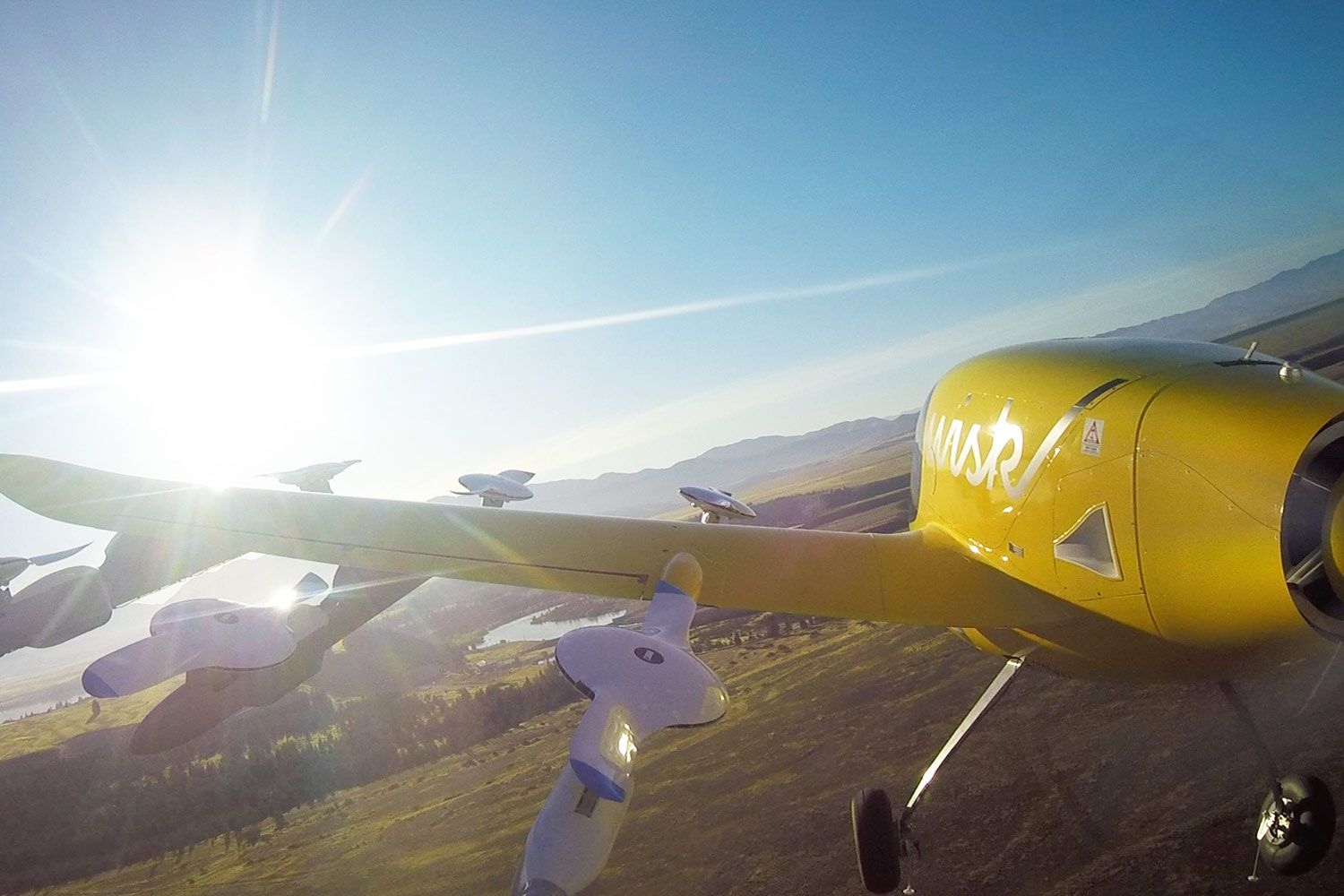 13th September 2021 Jet Racing confirmed for 2022.

The world's fastest motor sport has been confirmed to take centre stage at next Easter's Warbirds Over Wanaka International Airshow. Jet Racing, featured for the first time in 2014, with high-performance jet aircraft racing around a tight aerial race-course marked by large inflatable pylons on the ground.
Back in 2014 the Wanaka Jet Racing Championship was taken out by Hamilton-based pilot, Paul 'Huggy' Hughan flying a 1950s Vampire Jet. Paul is returning in 2022 in an attempt to win the trophy for a second time. "The jet racing in 2014 was such a blast. A chance for a group of very experienced pilots to test their skills and aircraft against each other. While we were fierce competitors on the race track, we were all good friends once the aircraft were back on the ground," says Paul.
Chasing Paul hard will be fellow Vampire pilot Brett Emeny, from New Plymouth; Tauranga's John Mathewson flying an L-39 Albatros and Auckland-based Dave Brown at the controls of a Strikemaster. Paul, John and Dave are all ex-RNZAF A4 Skyhawk fighter jet pilots, while Brett is a highly experienced formation aerobatic pilot across many Warbird types.
Warbirds Over Wanaka General Manager, Ed Taylor, says they had planned to bring back the event at the 2020 Airshow which had to be cancelled at the last minute because of COVID.
"We know this was so popular back in 2014 and after the disappointment of 2020 we're rapt we're able to stage it next Easter. The sight of these aircraft hurtling around the race-course at high speed is something to be seen." He says the tight course means that the aircraft are in view for the entire time on each lap so Airshow visitors get to see all the passing manoeuvres.
Ed has also confirmed Universal Developments has come back on board as sponsor of the Jet Racing after the 2020 Airshow cancellation. "It's the continuing support of people like Lane Hocking and his team at Universal Developments which has made the recovery from that cancellation possible," says Ed.
The jets will race all three days of the Airshow gaining points for where they finish. The winner will be the most consistent jet over the Airshow.
The official starter aircraft will be Graeme Frew's WWII Yak-3 fighter aircraft "Full Noise". Graeme is no stranger to the sport having twice competed with distinction in the Unlimited Class Gold Final at the Reno Air Race Championships in Nevada, the holy grail of air racing.
If watching the Jet Racing isn't enough, Airshow patrons can book the ride of a lifetime in one of the participating aircraft. Go to www.fighterjets.nz to book a ride in the L-39 Albatros Jet in Wanaka next Easter. Rides can also be booked in Graeme Frew's Yak-3 fighter "Full Noise" at www.fighterflights.co.nz .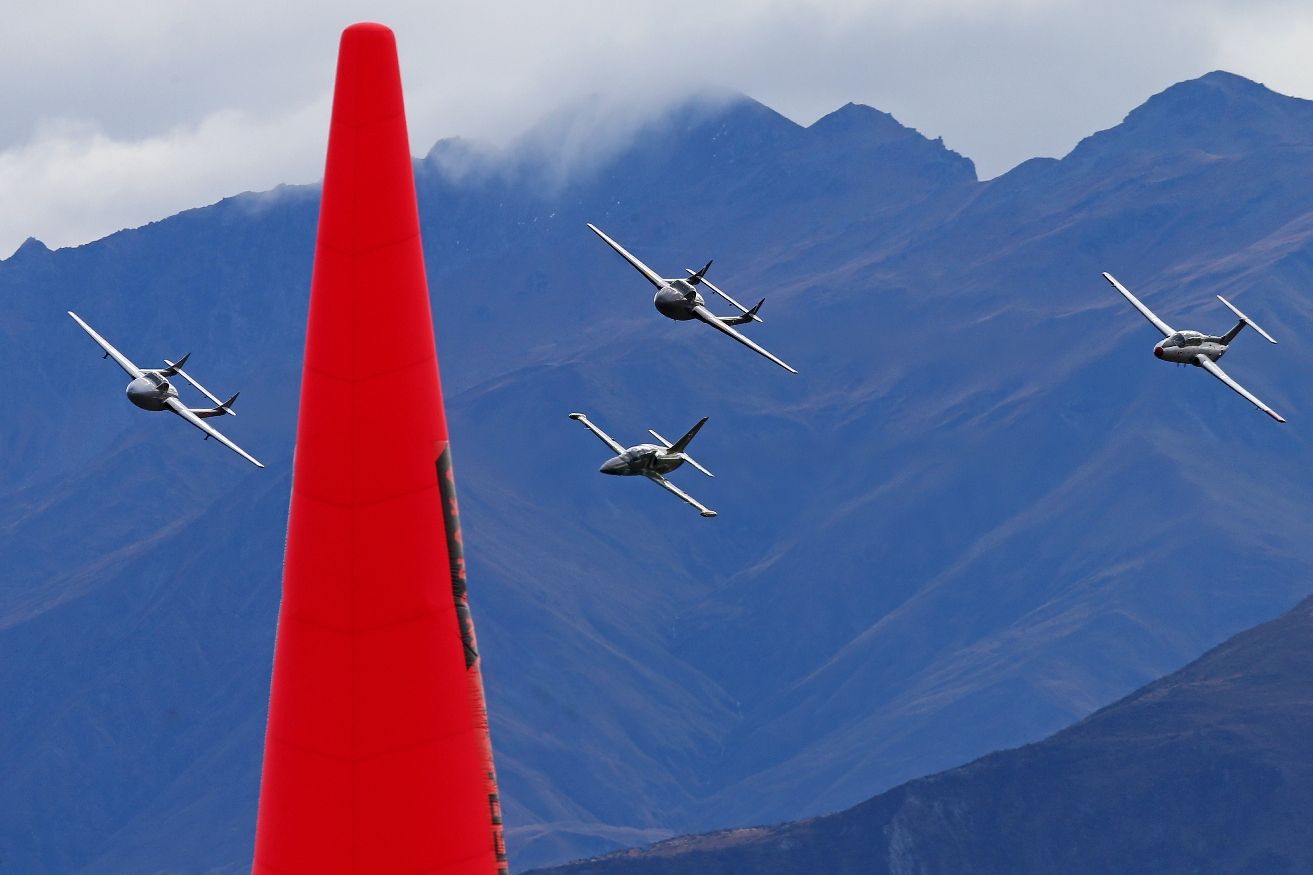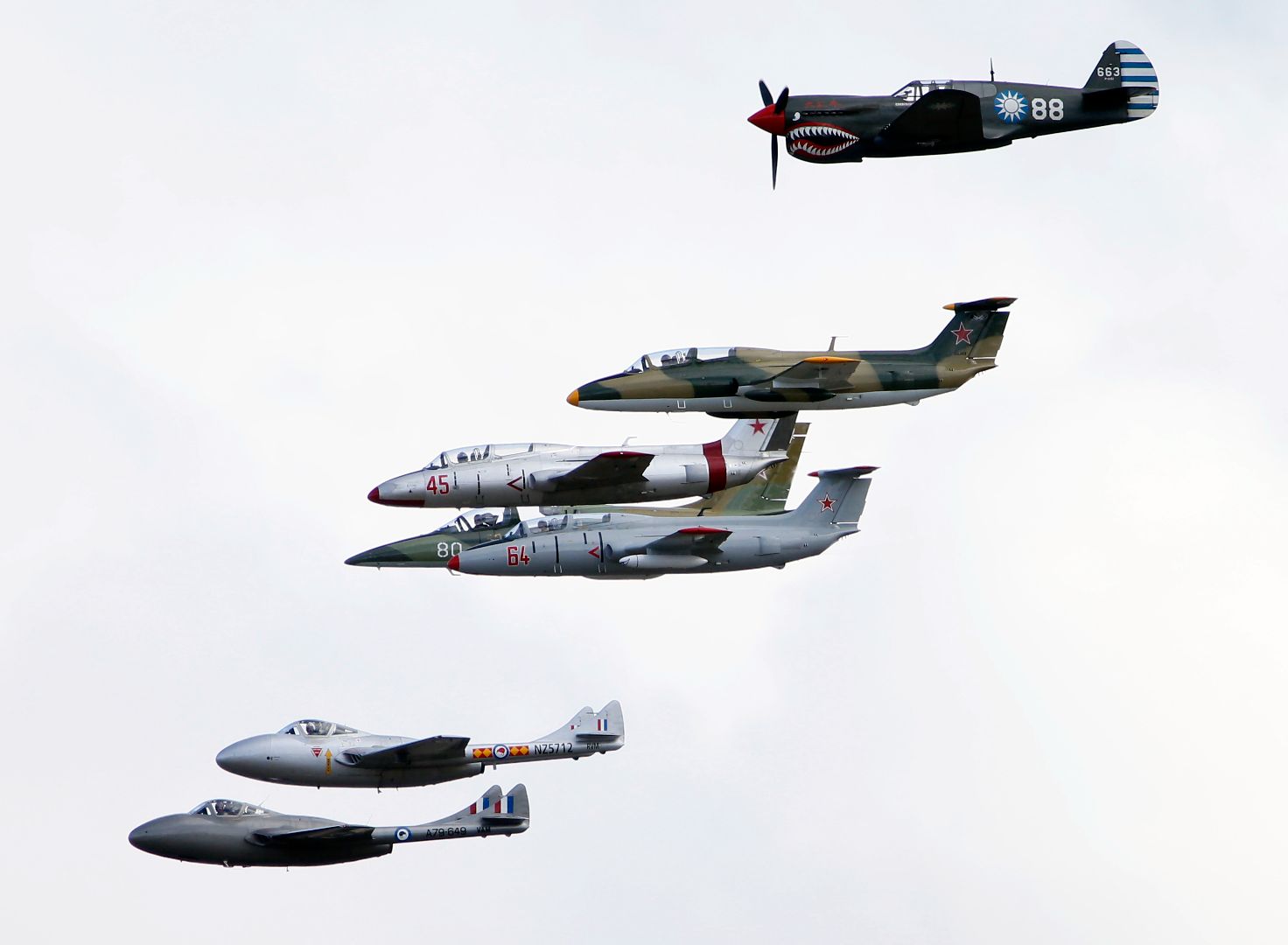 Photo Credit Gavin Conroy
6th September 2021 - Trojan aircraft confirmed for 2022.

Another first for a New Zealand airshow, following the announcement of a 3-ship North American T-28 Trojan display at next Easter's Warbirds Over Wanaka International Airshow.
New Plymouth-based pilots, Brett Emeny and Peter Vause, were due to debut their Trojan pairs display at the 2020 Wanaka Airshow before Covid intervened. For 2022 they are being joined by Dave Brown at the controls of the Brian Hall-owned T-28G from Christchurch.
Warbirds Over Wanaka General Manager, Ed Taylor, says not seeing the pairs display last year was a big disappointment but that's going to be more than made up for with a 3-ship next Easter.
"We had Brett's Trojan at the 2018 Airshow, after a 14-year absence and it was a real hit with Warbirds fans. It's a big aircraft and it's also very noisy which people love. Having three of these great machines in the air at once will be special."
Brett has owned Trojan T-28C # 563 for a number of years, while Peter purchased Trojan T-28B # 973 from Australia a couple of years ago. Both aircraft are painted in the same US Navy colour scheme.
Meanwhile, Brian Hall's Trojan is the result of a 16,000-hour restoration project in the United States.
Brian had been looking for a T-28 for a few years and was at the Oshkosh airshow in the US when he heard about the aircraft based at Rockford, Illinois. Brian fell in love with the aircraft after being suitably impressed by its back story.
North American T28G Trojan BuNo 138218 was constructed in 1953 entering service with the US Navy in 1954, spending 29 years in service at Pensacola and Texas, logging just over 15000hrs TT. She was then sent to the boneyard at Tuscon, Arizona where she sat for over two years.
Eventually the Trojan was sold to a retired naval aviator, made airworthy and flown to New York to undertake what would become a 16,000-hour restoration. The owner insisted he wanted "the best T-28 in the world". The wings were strengthened and recovered with new thicker skins, new fuel bladders were fitted. The fuselage was also strengthened and recovered with thicker skins.
A major modification was the change of power plant from a 9-cylinder Curtiss Wright 1425 hp engine to a custom-built Pratt & Whitney R2000 14-cylinder radial rated at 1450 hp. This engine drives a modified Grumman Tracker 3 bladed propeller through an 1830 gearbox reducing engine rpm by 200 rpm with a cruise speed of around 190 knots (352 kph).
The Trojan was produced during the 1950s and was first used as a military trainer aircraft by the United States Air Force and United States Navy. During the 1960s the T-28 was successfully employed as a counter-insurgency aircraft, primarily during the Vietnam War.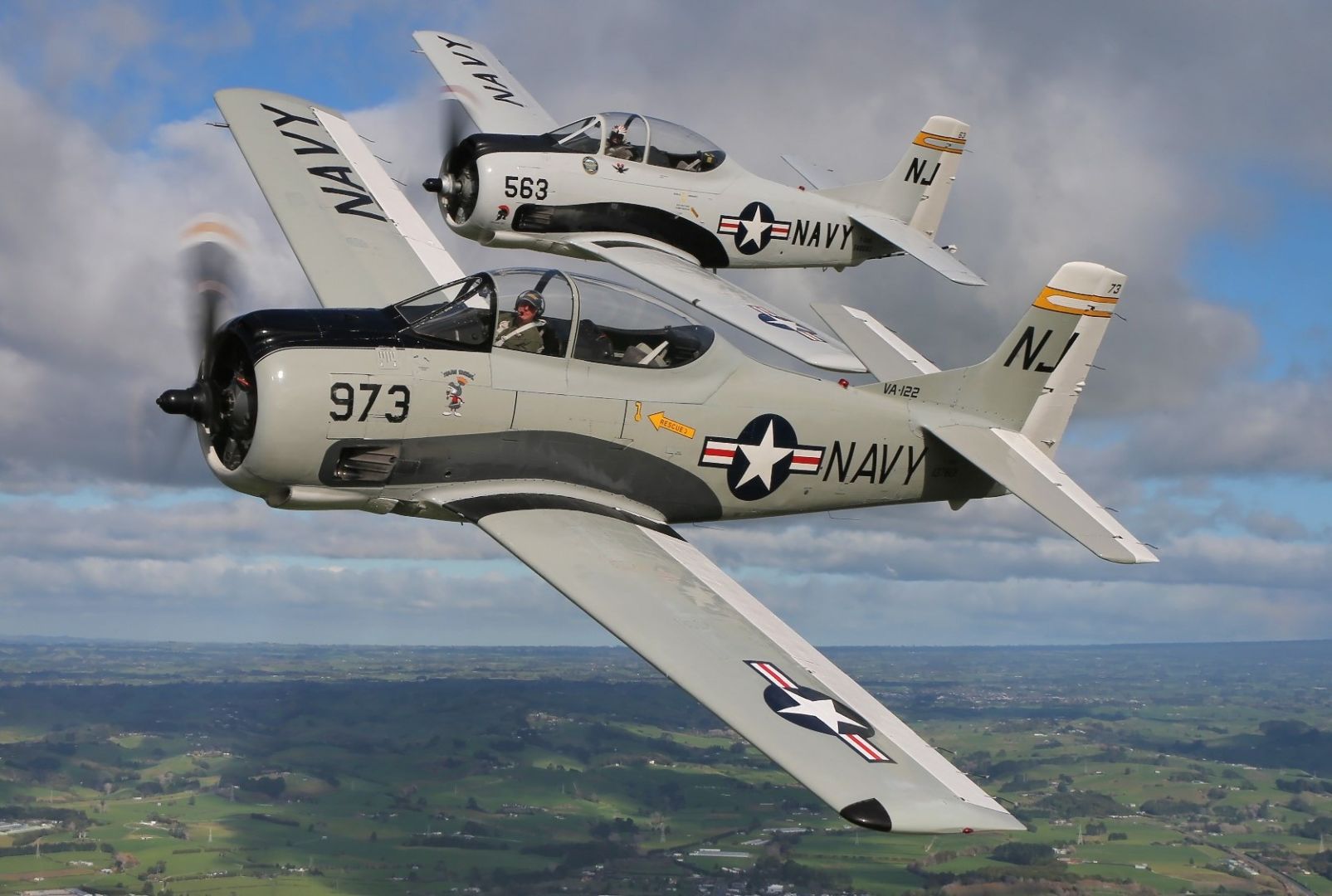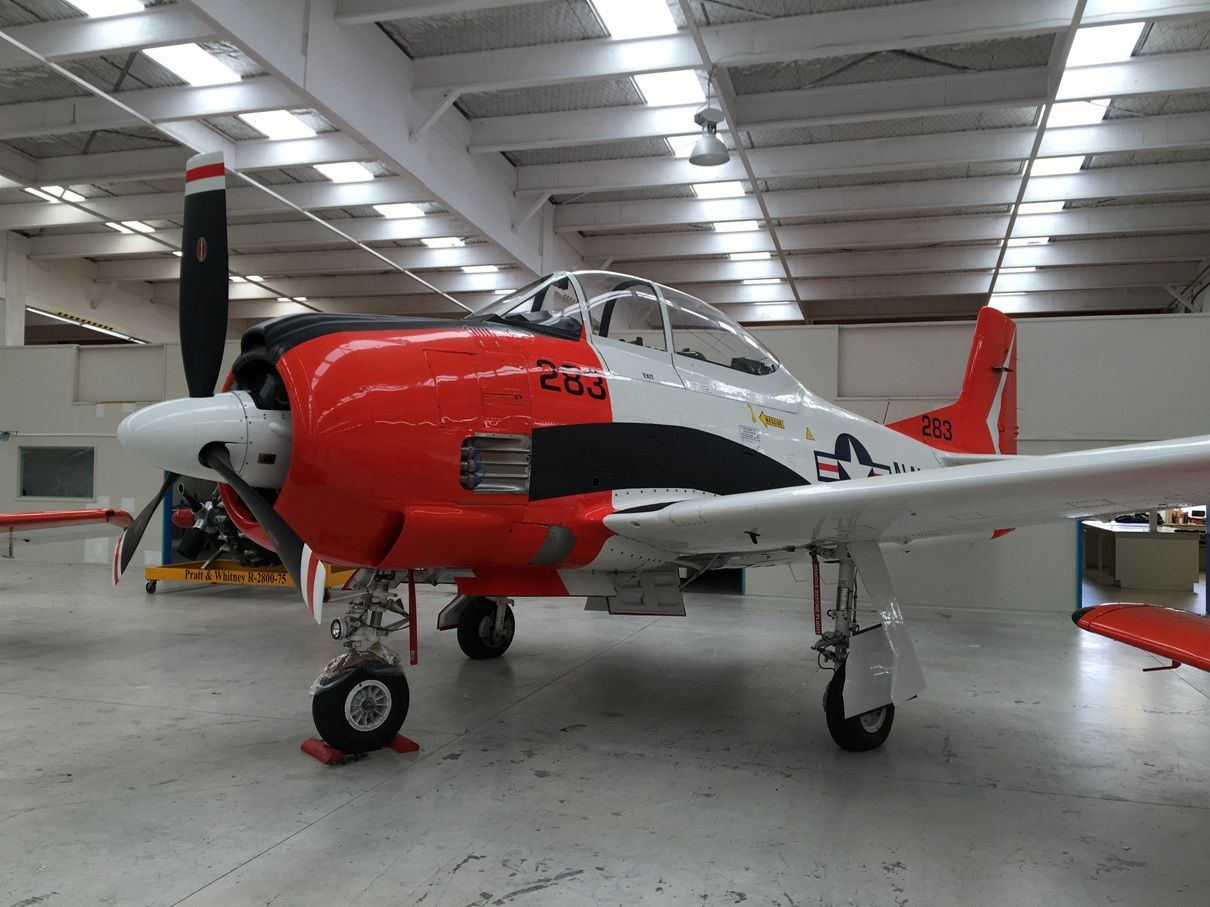 Brett Emeny and Peter Vause- owners Birian Hall - owner
30th August 2021 - Strikemaster confirmed for 2022.
Brian Hall may be described as something of a late bloomer when it comes to the world of Warbird flying and ownership.

His interest in aviation follows a similar story to many others. Growing up in Ashburton in the latter part of WWII Brian had a great interest in the comings and goings at an RNZAF training base at the nearby Ashburton airfield.

"I spent every Sunday watching the activity on the airfield until finally a member of the local aero club took me up in a Tiger Moth. I was eight years old and was immediately hooked on flying."

During his teens Brian was a member of the local ATC squadron but then his career and business interests, both in New Zealand and Australia, took all his attention and aviation took a back seat.

It would be another 40 years before Brian realised he had not fulfilled his childhood dream of learning to fly. At the age of 56 he trained for his PPL and purchased his first aircraft a PA28-235.

His attention soon turned to helicopters and over the years Brian has owned six rotary wing aircraft including an Enstrom 280FX Shark, Bell Jetranger, Robinson R44 and Robinson R22. His first 'Warbird' purchase was also a helicopter, an ex-Royal Navy Aerospatiale SA341 Gazelle which had been part of the Royal Navy's Sharks 6-ship helicopter display team. "My particular aircraft was flown by Lt Commander 'Tricky' Dane who was famous for performing loops and barrel rolls in it."

Brian's Warbird collection soon turned to fixed wing aircraft with a Yak-52 joining his stable. This was followed by an ex-Royal Saudi Air Force BAC167 Strikemaster jet and then Harvard 1066. Finally, Brian purchased his impressive North American T28G Trojan.

Today Brian owns three aircraft. The Strikemaster is based at Christchurch Airport while the Trojan is a flying exhibit at the Ashburton Aviation Museum. He also keeps his Piper Cherokee 235 at Ashburton for private use.

Brian is now keen to let a lot more people see his 'Warbirds' displayed and has agreed to bring his Strikemaster and Trojan to Wanaka next Easter for their first displays at a major New Zealand Airshow. Both will be flown by NZ Warbirds Association Chief Flying Instructor and ex-RNZAF Skyhawk pilot, Dave Brown.

The display team is rounded out by engineer Kevin Langford. "Not only does Kevin do a fantastic job of keeping the Strikemaster and Trojan flying, he is rated to fly in both as well, a great achievement," says Brian.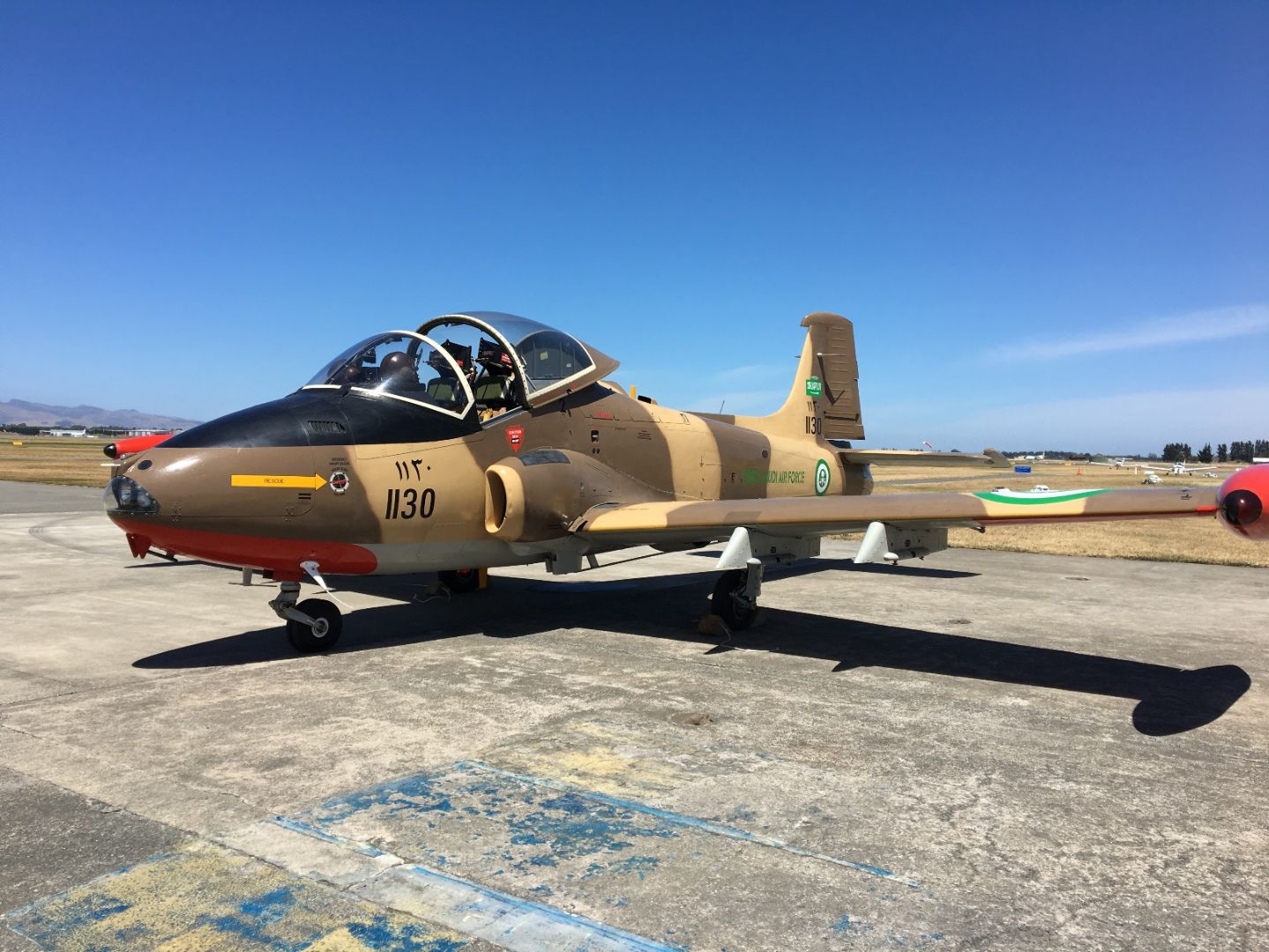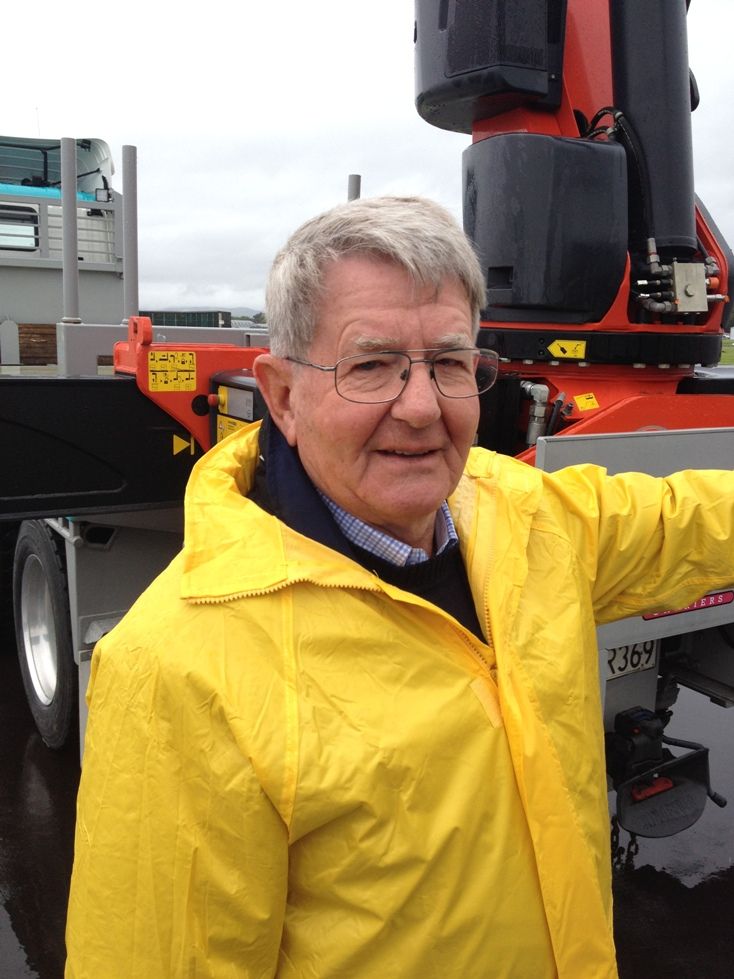 Brian Hall
26th August – PBY Consolidated Catalina confirmed for 2022
After being out of action for more than a year, one of New Zealand's most iconic Warbird aircraft is being readied to make her return to the Southern Hemisphere's biggest Warbirds Airshow – Warbirds Over Wanaka.
Following the COVID-forced cancellation of Warbirds Over Wanaka 2020 the decision was made to mothball the aircraft for the next year.
Chief pilot, Brett Emeny, says they have used the down time to do more maintenance on the aircraft at their New Plymouth base. "We want to ensure she is in peak condition for the upcoming summer culminating in our big trip to Wanaka," says Brett.
The sight of the 77-year-old aircraft coming in low over Wanaka township and landing on Lake Wanaka is one of the highlights of the Airshow's lakeside event.
Brett says the lake landings are very special. "I believe this is the only remaining Catalina in the world still doing water landings so it's quite unique."
The aircraft is owned and operated by the NZ Catalina Preservation Society on a ride 'cost-share' basis giving Society members and their friends the chance to experience the thrill of flying in the aircraft while also contributing to her preservation.
The plan is that the aircraft will still be flying well after her 100th birthday. "After a major overhaul was completed back in 2016 and with all the work we've done over the past year, the Cat is now in better condition than most of us and should outlast us all," jokes Brett.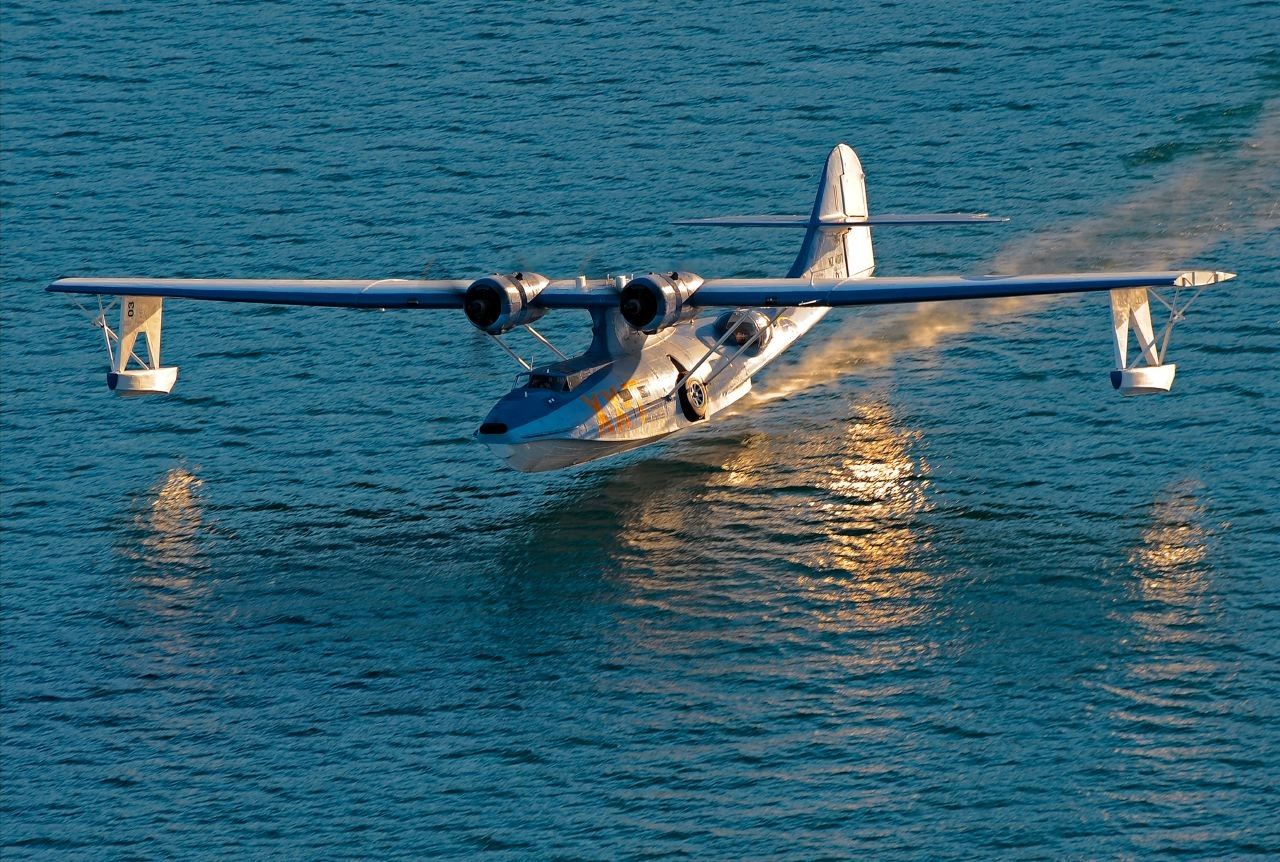 Photo Credit Philip Makanna
20th August - MEET THE PILOTS – BRETT EMENY
Behind every great aircraft displaying at the world-famous Warbirds Over Wanaka International Airshow, is a team of dedicated people including some of the world's best airshow display pilots. Continuing our series of short video clips called 'Meet the Pilots', our third pilot is Brett Emeny – see this link:

https://youtu.be/Cwjvp82m-58
Duration: 44"
Brett Emeny
If it flies, Brett wants to fly it. One of the most accomplished pilots on the New Zealand Airshow circuit, Brett is in his happy place at the controls of classic Warbird aircraft. He first flew at the age of 15 and over the years has flown many different types including the Catalina, Trojan, Yak-52, Harvard, Hawker Hunter, L-29, L-39 and of course his own Vampire jet. Based in New Plymouth, Brett owns and operates his own aviation-based agriculture business – Fine Particle Association.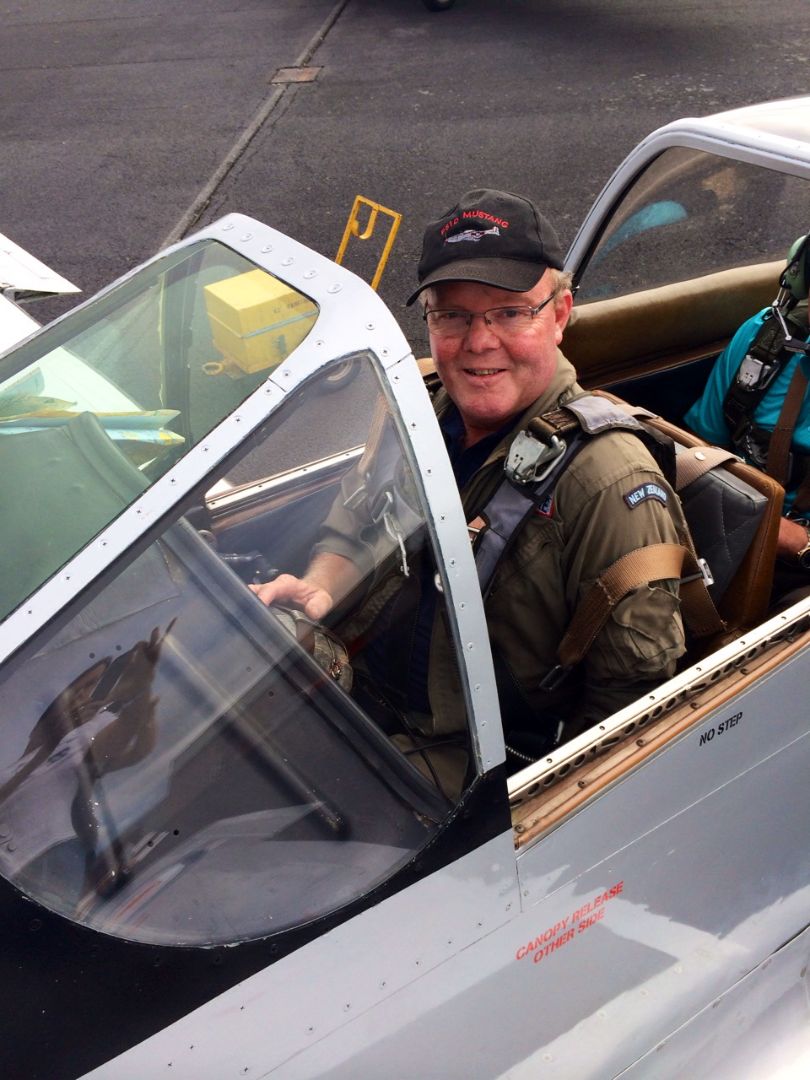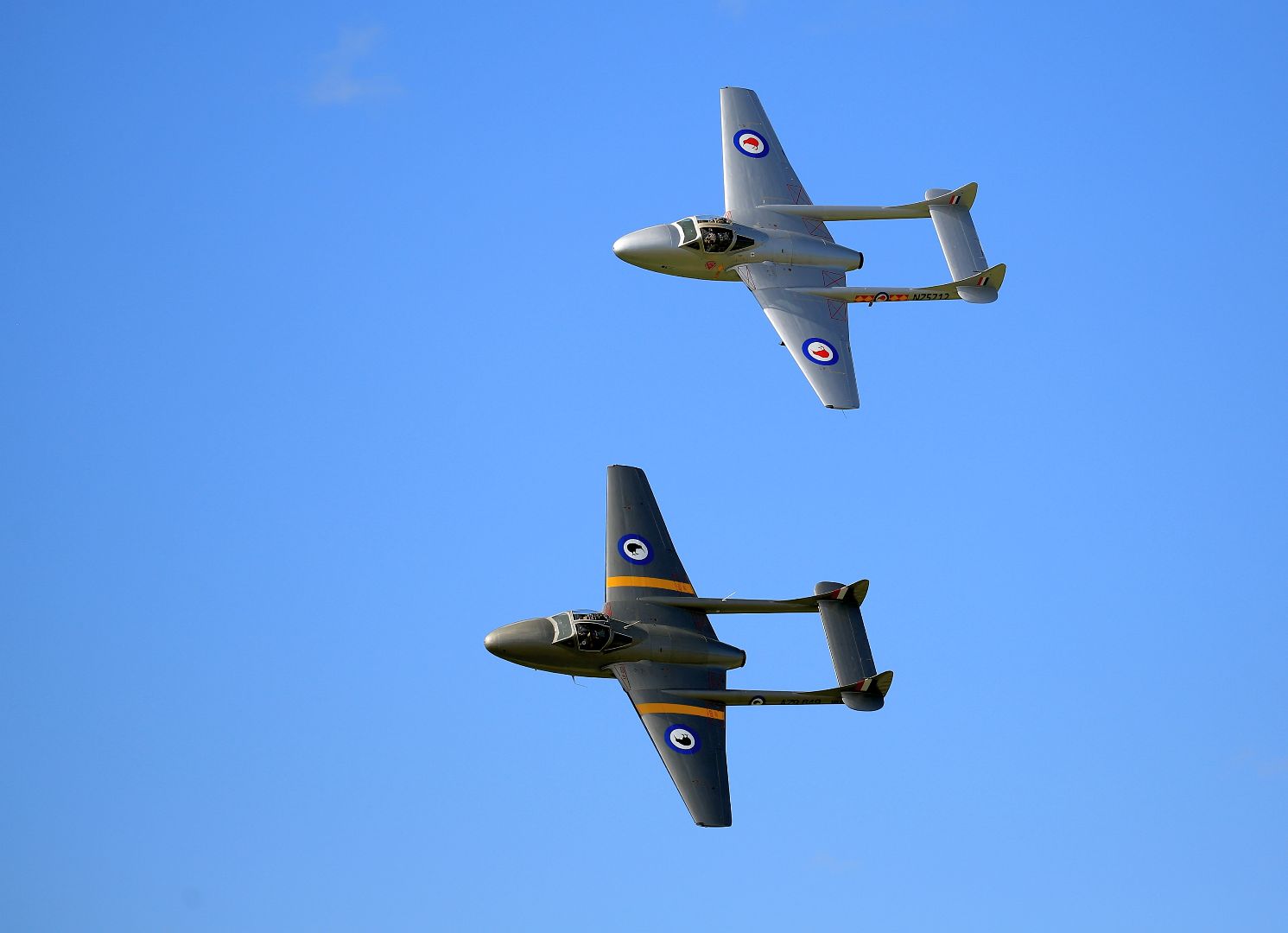 Brett Emeny Photo Credit Brian Greenwood
11th August Meet the Pilots Paul 'Sticky' Strickland.
The Aero L-39 Albatros is a sleek Czechoslovakian built jet which has been a popular jet trainer around the world.
Pilot Paul 'Sticky' Strickland, is a former USAF F-16 pilot and member of the world-famous Thunderbirds aerobatic team. Since leaving the air force 'Sticky' has teamed up with others to form the civilian Patriots L-39 display team which performs at airshows around the US.
While Paul loves flying the L-39 these days he still remembers back to his air force days, especially flying the F-16.
"After a stint in Europe I came back to the US and was flying the F-5 fighter. Then came the move to the F-16 which was like going from a Triumph Spitfire to a Maserati race car. A monster capable of pulling 9-Gs with a tactical radar and decisive manoeuvring, the F-16 was like a glove one fits on and simply sighs at the comfort and fit," says 'Sticky'.
See this link for more https://youtu.be/zKPQQddZEyA
Duration: 49"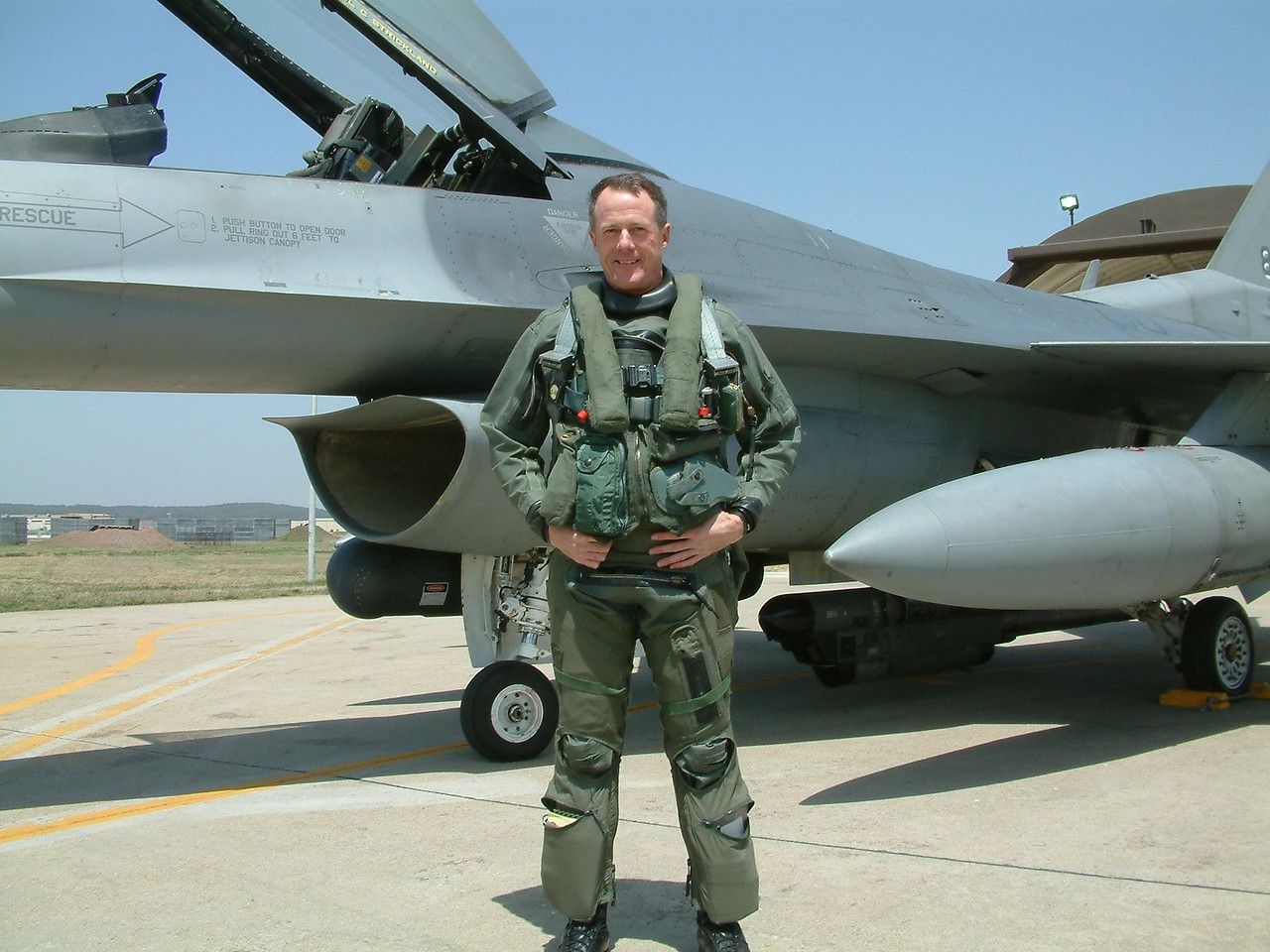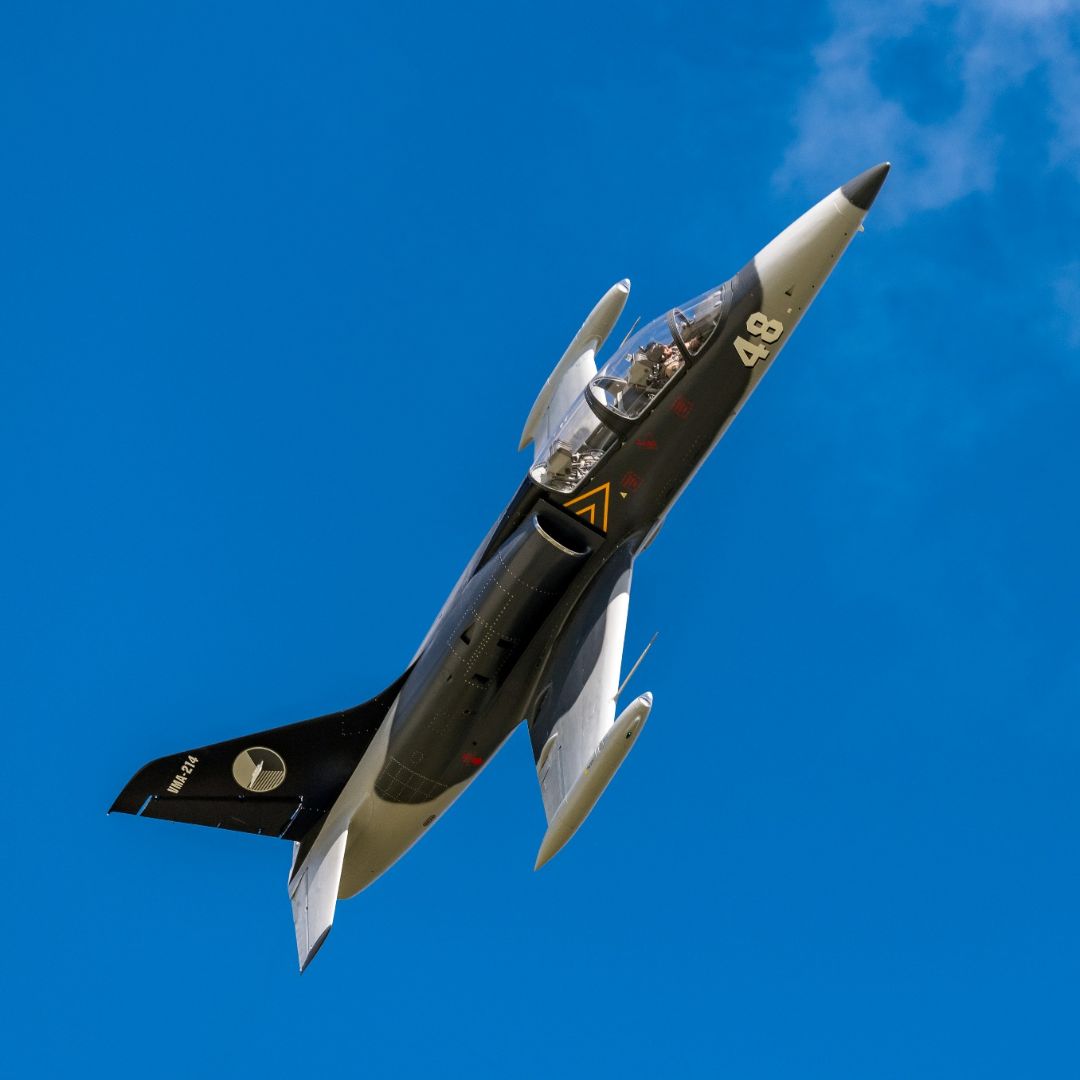 Paul Strickland Photo Credit Steve Zimmerman
6th July 2021 P-40 Kittyhawk guns confirmed for 2022.
Warbirds Over Wanaka organisers have confirmed one of the eagerly anticipated acts from the cancelled 2020 Airshow will feature at next Easter's Airshow - a unique opportunity to see a P-40 Kittyhawk firing its six .50 calibre machine guns up close.
Warbirds Over Wanaka General Manager, Ed Taylor, believes Wanaka is the only Airshow in the world where you can see a P-40 firing its guns.
"On the Saturday and Sunday the P-40 will be part of a recreation of the Battle of Milne Bay, a famous Australian WWII battle. However, before that on the Friday we will be having a special one-off 'firing of the guns' on the ground to allow fans to get up close and personal for a very noisy experience of a lifetime."
"The P-40 guns are something of an only-at-Wanaka thing. They were first used back in 2008 and then in 2012 and 2016. It's great to have them back for 2022 after the disappointment of having to cancel our last show," says Ed.
Pilot Frank Parker says when the guns are fired it changes the P-40's character from a quaint old aircraft to a 'weapons system'. "The guns are a bit muted by the engine noise, however the whole airframe rattles - there is no doubt there is some serious action going on. They add a further dimension to the aircraft and the display routine. I'm very privileged to be in the seat and it does give you a very real feeling for how it must have been when P-40s were flying in combat back in the 1940s," says Frank.
The spent shells will be recovered and signed by Frank and will then be offered for sale to Airshow visitors raising funds for the Warbirds Over Wanaka Community Trust Flying Scholarships.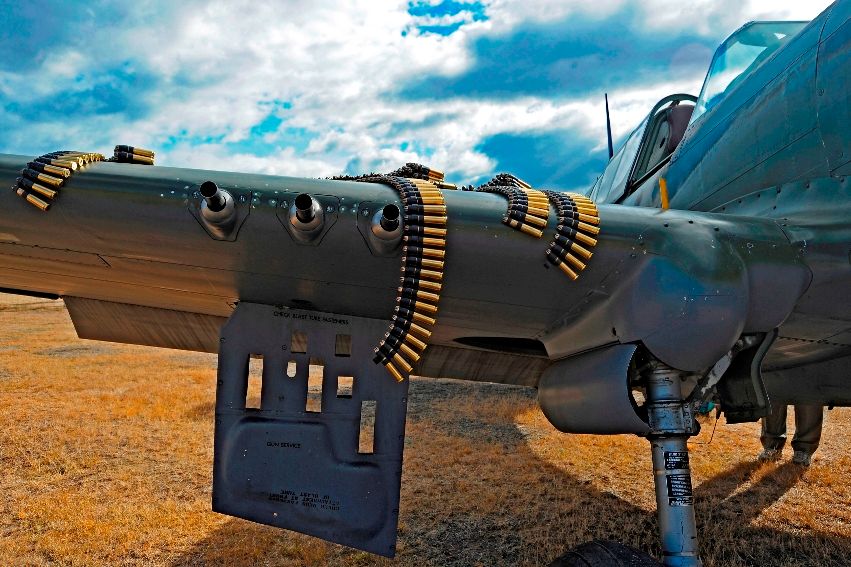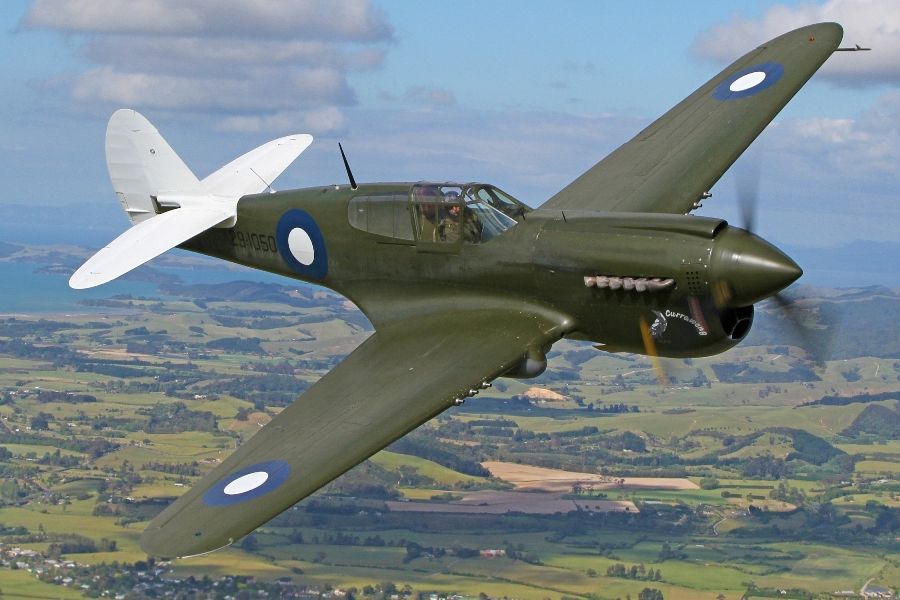 Photo Credit Philip Makanna
24th June 2021 Meet the Pilots Bill Reid
The Avro Anson was a coastal reconnaissance bomber that entered service in 1936 performing anti-submarine and convoy production duties. It was first considered to be fairly sophisticated because it was quick, was the first monoplane combat aircraft and the first to have a retracting undercarriage. This status proved to be short-lived as more advanced combat aircraft were quickly produced. Bill Reid's Mk 1 is the only Avro Anson still flying in the world.
Here's Bill talking about his beautifully restored Avro Anson. See this link: https://youtu.be/KqIj7opuZiw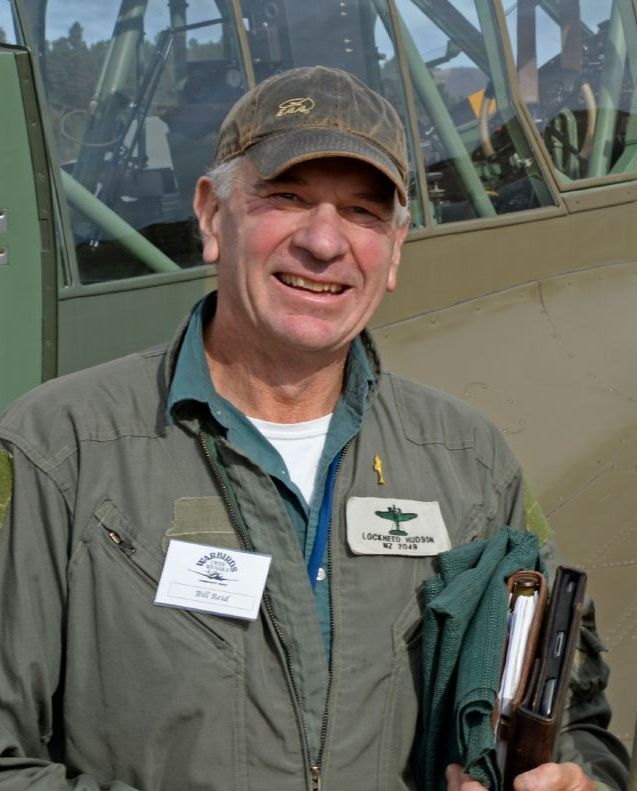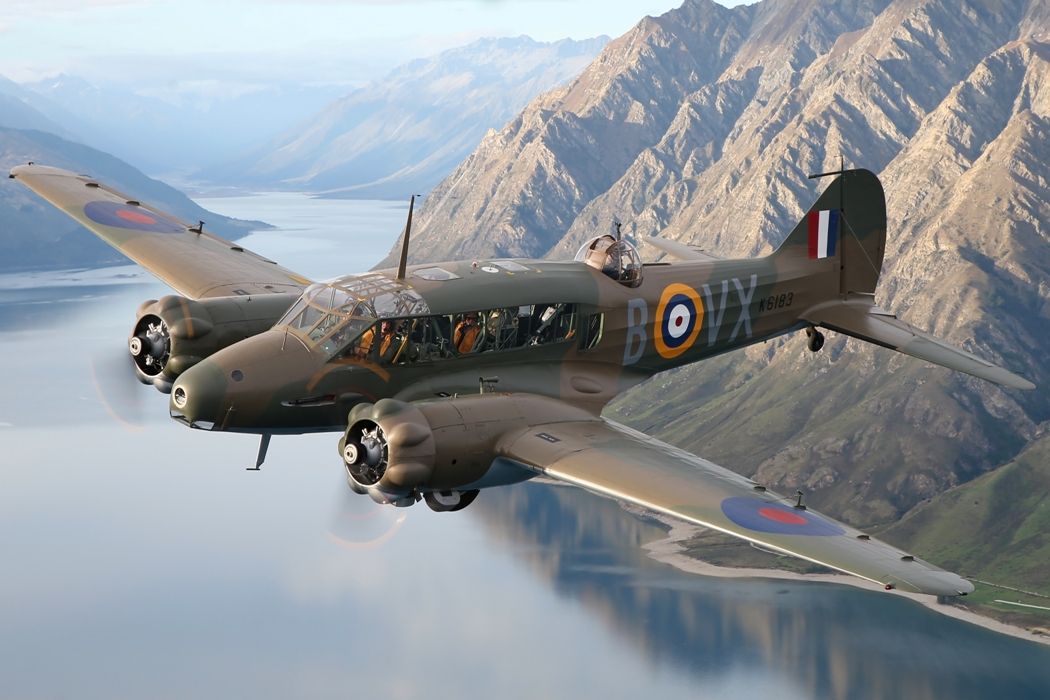 Bill Reid Photo Credit Gavin Conroy
25th May 2021 - AIRCRAFT ACT ANNOUNCED YAK 52 Team

New Plymouth-based pilot Fay Emeny has created a bit of history in recent times becoming the first female pilot to make the world-class Yak-52 aerobatic display team.
Fay joins two other women at the top of New Zealand Formation Aerobatics – Liz Needham who is a regular member of the Roaring 40s Harvard display team and Squadron Leader Mary Robertson, who is a member of the RNZAF's Black Falcons display team.
It's hoped all three will be displaying with their teams at the Easter 2022 Warbirds Over Wanaka International Airshow.
For Fay flying is in the blood. Both her grandfathers were pilots, the late Cliff Emeny flew De Havilland Mosquitos in WW11 while Jack Wheeler (94) is still a keen Taranaki aviator. Fay's father, Brett Emeny, operates an agricultural helicopter business and is a top New Zealand Warbird pilot, while her uncles are also involved in different aspects of aviation.
"Growing up I spent weekends following my Dad in whatever aviation adventures he was up to. Being a flight instructor, Dad gave me lots of time on the controls even if I couldn't reach the rudder pedals and I was hooked from a very young age. When I turned 13, we started flying gliders together, which was the best introduction to flying – understanding basic principles of flight – seat of the pants flying," says Fay.
Fay had her first flight in a Yak-52 at the age of 15 and continued to improve as a pilot over the next few years.
"Life caught up with me in my 20's, establishing my career, meeting my husband and starting our family, meant I took a break from a lot of flying. In 2019 I was in a position to return to formation training again with the aim of making my debut in the Yak team at Warbirds Over Wanaka in 2020. Unfortunately, Covid forced the cancellation of the Airshow but I have since become a regular in the team and can't wait to make my first appearance at Wanaka in 2022."
So, what is the biggest thrill of flying in a 9-ship formation aerobatic team? "It's got to be the buzz of getting it right, nailing the position you are flying – there is immense satisfaction in that. Also, I love the connection I have with the team. They trust me and I trust them, the close flying we do is dangerous in that things can suddenly and unexpectedly go wrong. We have to trust that if that does happen, we each know what to do to keep each other safe."
Fay admits that tight formation flying can be scary. "Earlier in my training my stomach would be in knots before flights, but I used to put on a brave face because I didn't want the other pilots to know how scared I felt at times. One day I plucked up the courage to ask the others if they ever felt scared and was surprised when they replied 'Yes'. They taught me that feeling scared was a strength, it meant you had respect for the danger of what you were doing and that made you a safer pilot."
Fay says flying in the Yak-52 team at Warbirds Over Wanaka next Easter will be another major milestone in her aviation career. "I flew Dad's Yak down to Wanaka in 2006 at the age of 20 and now I'll be returning some 16 years later and actually flying in the Airshow. It doesn't get any better than that."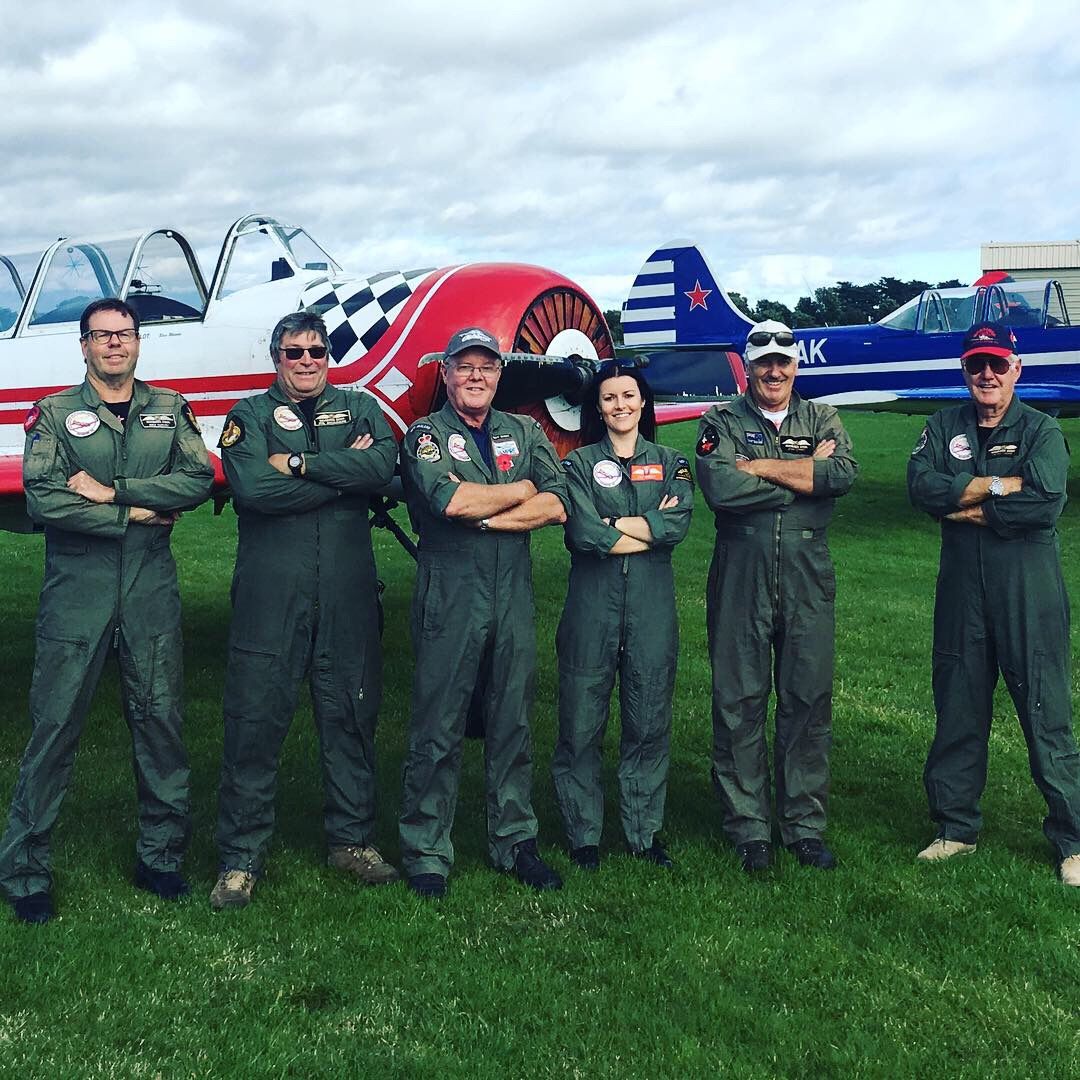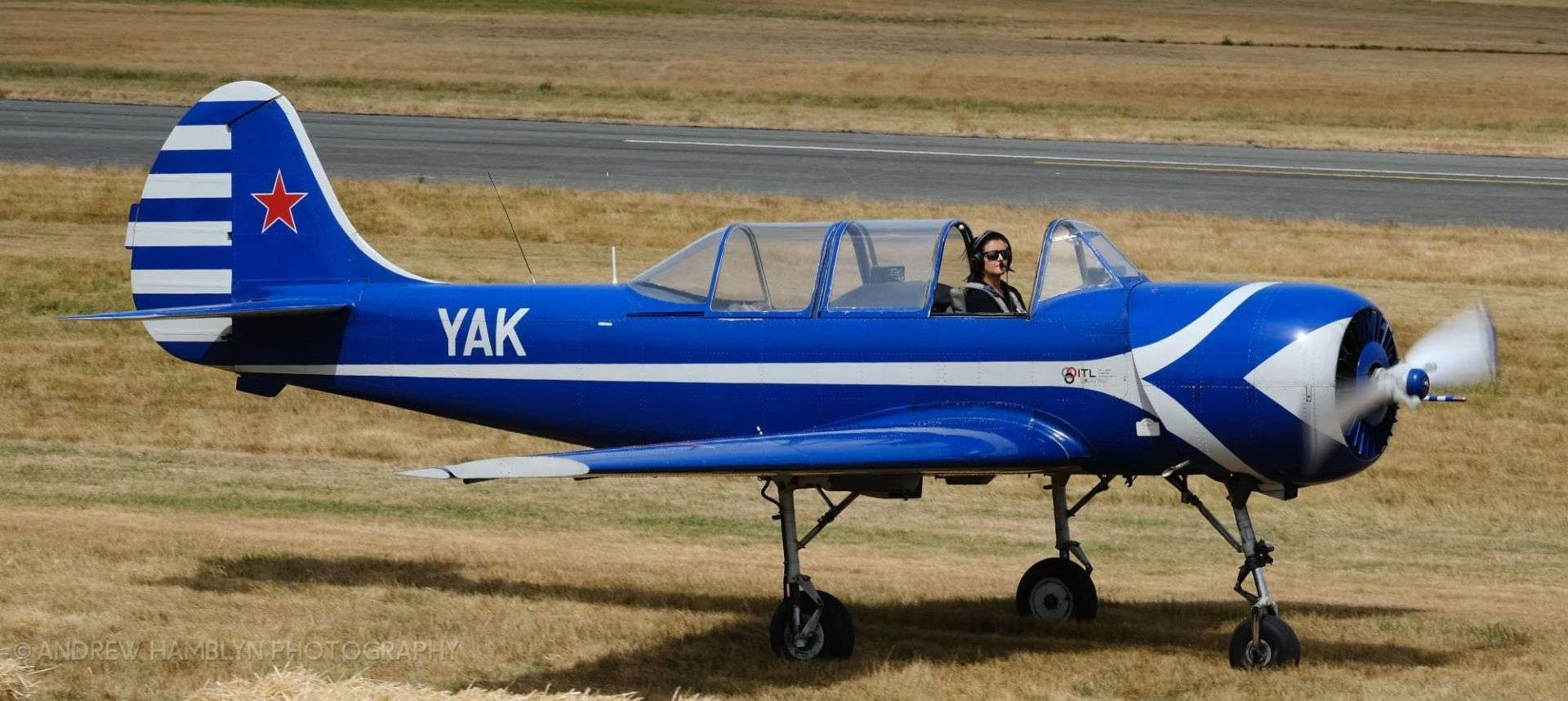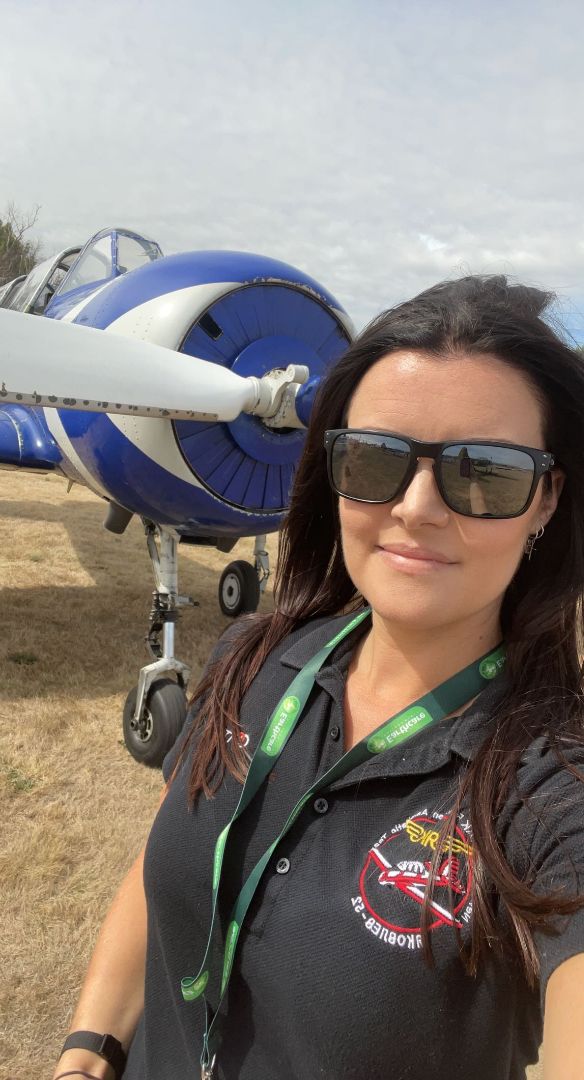 Yak 52 Team Fay Emeny in her Yak 52 Fay Emeny